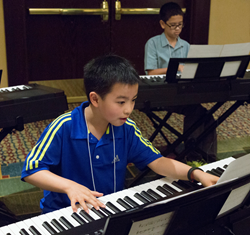 "Through our longstanding partnership with the Mr. Holland's Opus Foundation, we hope that our donation will help bring the benefits of music education – and the joy of music making – back into the lives of students as their communities continue to recover," said Tom Sumner, Yamaha
BUENA PARK, Calif. (PRWEB) November 02, 2017
Yamaha Corporation of America, in partnership with the Mr. Holland's Opus Foundation (MHOF), is inviting people across the U.S. and around the world to join the company's "Share the Gift" campaign to help rebuild music education programs devastated by Hurricanes Harvey and Irma. Through this campaign, Yamaha will donate over 1,300 instruments and music products – keyboards, guitars, headphones and recorders – to schools in hurricane-ravaged communities in Texas and Florida.
Between November 1 and December 31, Yamaha is asking anyone wishing to help those in need to post a photo or video of themselves explaining how music education has changed their lives. For every photo or video posted with the hashtag #YamahaSharetheGift on Twitter or Instagram, or video submitted to YouTube via the Share the Gift website, the company will donate a brand-new instrument to Music Rising, the disaster relief fund of the Mr. Holland's Opus Foundation. Music Rising helps schools to rebuild music programs that lose instruments and musical supplies due to natural disasters.
All photo and video posts will be compiled on the Share the Gift website at https://www.yamaha.com/us/sharethegift/
One critical area this campaign will impact is the Houston Independent School District, which lost $1 million worth of instruments across 13 campuses. Many schools have been closed indefinitely, or relocated temporarily to serve their students. The MHOF has been working closely with the district to determine the most critical areas of need to be addressed.
Additionally, many schools in southern Florida that have experienced sustained flood damage will benefit from the Share the Gift initiative.
"Like the rest of the world, we at Yamaha have been saddened to see the devastation left in the wake of both Hurricane Harvey and Hurricane Irma," said Tom Sumner, senior vice president, Yamaha Corporation of America. "Through our longstanding partnership with the Mr. Holland's Opus Foundation, we hope that our donation will help bring the benefits of music education – and the joy of music making – back into the lives of students as their communities continue to recover."
Since its founding in 1887, Yamaha — the world's largest manufacturer of musical instruments — has maintained a devotion to inspiring creativity through the power of music, and has remained deeply dedicated to charitable works to promote education, arts, health and human services and community development. The centerpiece of the company's mission is the preservation and excellence of musical tradition, while creating innovative new products, technologies and education programs.
Learn more about the campaign at https://www.yamaha.com/us/sharethegift/ and follow @YamahaMusicUSA on Facebook, Instagram and Twitter for the latest updates.
About Yamaha
Yamaha Corporation of America (YCA) is one of the largest subsidiaries of Yamaha Corporation, Japan and offers a full line of award-winning musical instruments, sound reinforcement, commercial installation and home entertainment products to the U.S. market. Products include: Yamaha acoustic, digital and hybrid pianos, portable keyboards, guitars, acoustic and electronic drums, band and orchestral instruments, marching percussion products, synthesizers, professional digital and analog audio equipment, Steinberg recording products and NEXO commercial audio products, as well as AV receivers, amplifiers, MusicCast wireless multiroom audio systems, Blu-ray/CD players, earphones, headphones, home-theater-in-a-box systems, sound bars and its exclusive line of Digital Sound Projectors. YCA markets innovative, finely crafted technology and entertainment products and musical instruments targeted to the hobbyist, education, worship, music, professional audio installation and consumer markets.