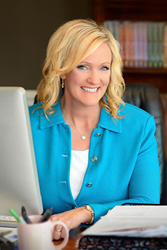 "I am beyond thrilled Liberty University had chosen to make this center a part of its curriculum. Over the years, thousands of students have asked me what school would best prepare them for a career as an author or screenwriter. Now the answer is easy: Liberty University." —Karen Kingsbury
LYNCHBURG, Va. (PRWEB) November 02, 2017
In an ongoing partnership with #1 New York Times best-selling author Karen Kingsbury, Liberty University has announced the opening of its new Karen Kingsbury Center for Creative Writing.
Under the center, and in conjunction with the College of Arts and Sciences, students can currently pursue the new Minor in Creative Writing, which is offered both residentially and online. The center is exploring adding new programs in the future.
"I am beyond thrilled Liberty University had chosen to make this center a part of its curriculum," Kingsbury said. "Over the years, thousands of students have asked me what school would best prepare them for a career as an author or screenwriter. Now the answer is easy: Liberty University."
In Kingsbury's interactive and engaging courses, students are trained to cultivate their gifts as writers and to express their faith in creative and original ways.
"We want to train Liberty's next generation of students to make a living as professional writers upon graduation," Kingsbury said.
Dr. Roger Schultz, dean of Liberty's College of Arts and Sciences, said he expects curriculum offered through the center to be very popular among incoming students.
"In keeping with the larger mission of Liberty University, the purpose of the new center is to Train Champions for Christ – students who can articulate their Christian worldview with originality and excellence through written communication," Schultz said. "Creative writing through blogs, short stories, lyrics, screenwriting, and full-length works of fiction and non-fiction provide opportunities for students to communicate their biblical faith and the message of Christ to a fallen world."
Kingsbury has more than 25 million copies of her books in print. Many of her novels are under development as major TV and motion picture films. Her Baxter Family books are in pre-production for a TV series with Roma Downey, Mark Burnett, and MGM Studios. She has a longstanding relationship with Liberty and has been inspiring students for many years as an adjunct professor for writing, research, marketing, and film classes, and is also a favorite speaker at Convocation. She received an Honorary Doctor of Letters from Liberty in May. Kingsbury and her husband, Don, are the parents of six grown children, three of whom are Liberty students.
"The excellence in every facet of education at Liberty University is the reason my family and I have become such fans," Kingsbury said. "When I'm teaching on campus, I'm constantly amazed at the quality of students and professors Liberty University draws. These students are looking to be a light to a fallen world, and to do so with excellence. With this new center, I plan to do everything in my power to help train and encourage them."
For more information, call (800) 543-5317 (Liberty residential students) or (800) 424-9595 (Liberty online students).
Contact:
Len Stevens, Executive Director, Liberty University External Communications Office
(434) 582 7751
ljstevens(at)liberty(dot)edu
About Liberty University
Liberty University, founded in 1971, is the largest private, nonprofit university in the nation, the largest university in Virginia, and the largest Christian university in the world. Located near the Blue Ridge Mountains on more than 7,000 acres in Lynchburg, Va., Liberty offers more than 550 unique programs of study from the associate to the doctoral level. More than 250 programs are offered online. Liberty's mission is to train Champions for Christ with the values, knowledge, and skills essential for impacting tomorrow's world.