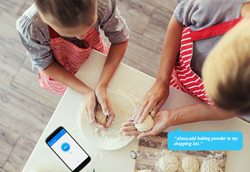 Consumers will be able to use their Coolpad smartphone to access the abundance of Alexa skills with just their voice
SAN DIEGO (PRWEB) November 06, 2017
Coolpad Americas has announced the availability of the Amazon Alexa app for their second unlocked smartphone, Coolpad Splatter. The Coolpad Splatter launched on Amazon.com on August 23rd at an aggressive $139.99 price point and supports 4G LTE on AT&T, T-Mobile, Cricket, MetroPCS, and other GSM carriers nationwide. The Alexa app will be available through a software upgrade starting 11/13/2018. Coolpad will be offering a discounted price of $129.99 with the launch of this new feature.
The Coolpad Splatter features a vivid 5.5" HD IPS display, 8MP main and 5MP selfie cameras and 16GB of internal storage that is expandable up to 32GB via microSD. The Splatter also packs a large 2,500 mAh battery, a powerful 1.4 GHz quad-core processor and Android Nougat OS (7.0).
In addition to these great features and pricing, the Coolpad Splatter is now integrated with Amazon Alexa. With a long press to the menu key or through the Amazon Alexa app, customers can ask Alexa to play their favorite music on iHeartRadio, TuneIn, or Amazon Music, as well as access information such as weather, calendar, to-do lists and news briefings that are set up through the Alexa app.
"We are excited to launch our next strategic device in the unlocked segment. The Coolpad Splatter is a great device that is reliable and affordable," said Garth Benner, Vice President of Open Market at Coolpad. "Moreover, bringing Amazon Alexa into Coolpad products will give consumers a more complete smart mobile experience. Consumers will be able to use their Coolpad smartphone to access the abundance of Alexa skills with just their voice."
This micro-innovation stands to highlight Coolpad's efforts in bringing technology normally reserved for expensive, high-end smart phones to the affordable tier, making them available for the mass market.
Visit http://www.coolpad.us for more info.
About Coolpad
Coolpad is a forward-looking company that embraces market trends and customer's needs. Coolpad is a company rich in innovations, and a powerhouse in the wireless industry that is dedicated to bringing premium features to value segment customer. Coolpad has become a renowned leader in the global smartphone market and looks forward to continuing to be an innovator in mobile devices and technology.
Be Simple. Be good. Simply good.
@coolpadamericas
Catalyst. Creative. Confident. Caring.