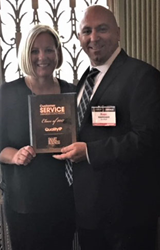 We're honored to be recognized with so many great companies and thought-leaders in Customer Service.
KENT, Ohio (PRWEB) November 02, 2017
QualityIP, a regional leader in IT Services, was presented a 2017 Customer Service Award today at a luncheon in Cleveland, OH. The luncheon is held annually.
Today's event honored 24 companies in Northeast Ohio who have made outstanding customer service a priority in their business. Over the past year, each company has raised awareness of the importance of exceptional customer service among their employees and the community at large.
Ryan Markham, QualityIP CEO, stated, "We're honored to be recognized with so many great companies and thought-leaders in Customer Service. We strive daily to encourage our employees to put our clients first. Our customers typically come to us when something isn't working. Reducing their stress and making them happy is rewarding for our employees, and the result is a more positive work environment for them and for us. It's gratifying to have our efforts recognized."