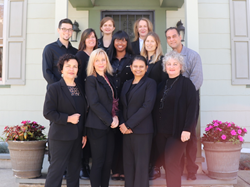 GillespieHall has received 71 national and international awards in the past 5 years.
DALLAS (PRWEB) November 02, 2017
GillespieHall was named as a two-time winner at the 2017 International MarCom Awards. The PR and social media marketing firm is based in Hockessin, Delaware, and specializes in health, nonprofit and corporate targeted messaging.
"We know we have a rare culture at GillespieHall," says founding partner Bridget Paverd. "All disciplines in the firm have their hands in each project. Everyone on the team has something to contribute. Whether we are creating an entirely new corporate brand or breathing life into a 30-year-old prevention message, we work as a team. Our results are solid – and entirely measurable. We really appreciate this peer recognition."
"We understand behaviors and then change them," says sociologist and VP of Operations Clara Mattucci. "We always appreciate having that important work recognized as the best of the best." GillespieHall has received 71 national and international awards in the past 5 years.
MarCom is one of the oldest, largest and most prestigious creative communication competitions in the world. The MarCom competition is organized annually by the Association of Marketing and Communication Professionals and recognizes outstanding achievement by professional marketing communicators.
GillespieHall's work was selected out of more than 6,600 entries from around the world. The firm won platinum for a series of gritty videos they wrote and produced for BCCS and a gold for a new visual identity program designed for a large New York corporate client. "The work the GillespieHall team developed is interesting, creative, intelligent and visually stunning," said Ed Dalheim of MarCom. "Each year, they produce impressive materials that resonate with our hard-to-please judges – industry professionals looking for talent that exceeds a high standard of excellence and whose work serves as a benchmark for the industry."
MarCom Awards entries come from global corporate marketing and communication departments, advertising agencies, PR firms, design shops, and production companies.