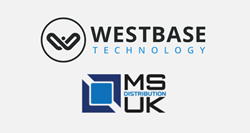 The addition of MS Distribution to the Westbase Group allows us to expand our wireless market operations as their focus on wide and local area networking technologies directly complements the Group's current portfolio.
Caldicot (PRWEB UK) 3 November 2017
Westbase Group, leader in specialist networking solutions, has acquired a majority share in MS (Distribution) UK Limited, expanding its operations in the wireless market. Specialising in wide and local area wireless networking solutions, MS Distribution is the largest UK Ubiquiti Networks distributor as well as representing other leading brands in this area.
This move follows Westbase Group's recent acquisition of Control Limited, specialists in automotive, fleet and IoT software development, and will see MS Distribution working alongside other group companies, Westbase Technology and Westbase Technology Solutions. Westbase Technology is the leading UK and European distributor of 4G LTE, IoT and hybrid networking solutions, and represents the three global leaders in cellular wide area wireless technologies; Cradlepoint, Sierra Wireless and Digi International. Westbase Technology Solutions is a leading distribution services provider offering resellers and partners support solutions for their deployments.
MS Distribution will continue to operate independently under its current senior management team, while benefitting from the extended Westbase Group resources and teams. Primarily selling into Wireless Internet Service Providers today, the company will continue with this focus but will also use the alliance to expand its footprint in the Enterprise market.
"Joining the Westbase Group will dramatically expand our capabilities across technical, marketing and sales by providing us with access to its teams," said Ian Bushrod at MS Distribution, "While the companies within the group will continue to operate on a relatively independent basis, we still expect the relationship to enable us to deliver into new projects and customers – especially in the Enterprise space. The industry experience and reputation of the Westbase Group will definitely enhance our offering."
"The addition of MS Distribution to the Westbase Group allows us to expand our wireless market operations as their focus on wide and local area networking technologies directly complements the Group's current portfolio," said Sacha Kakad, Managing Director of the Westbase Group, "Their channel focus and market approach is very similar to our other businesses. MS Distribution's successes to date – not least including their status as the largest Ubiquiti Networks distributor in the UK – demonstrates their leading position in the market and we're very excited to see how this relationship can open up new opportunities for all involved."