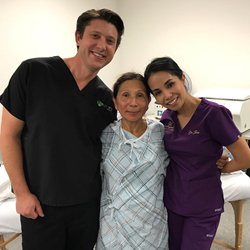 "It was a miracle! I can't stop looking at myself in the mirror. I notice the most improvement around my mouth and cheeks, as well as my under eye area. There was no pain. It made a big difference."
WOBURN, Mass. (PRWEB) November 03, 2017
Regeneris Medical, a front-runner in the field of regenerative medicine since 2009, partnered with ALMIⓇ at the Bio-Cellular Regenerative Medicine course over the weekend to teach over twenty doctors from around the world the latest in advanced bio-cellular techniques for facial rejuvenation. These state-of-the-art methods include using the patient's own blood in the application of platelet-rich-plasma (PRP), as well as activating the patient's own stem cells (found in fat) to treat a variety of aesthetic conditions of the face.
One 67-year-old patient was overjoyed by her results after Dr. Ryan Welter and Dr. Tess Mauricio performed her facial rejuvenation: "It was a miracle! I can't stop looking at myself in the mirror. I notice the most improvement around my mouth and cheeks, as well as my under eye area. There was no pain. It made a big difference."
PRP techniques have been used in orthopedics for a number of years, however its application in cosmetic procedures is cutting edge. It's safe, effective, and completely natural - no chemicals, no surgical scars, no lengthy recovery period. Using stem cells for facial rejuvenation can take years off the face in a natural way.
About Regeneris Medical: Regeneris Medical is committed to delivering tomorrow's healthcare today by offering research-level regenerative treatments that address a wide range of conditions. Years of research and hundreds of grateful patients that have been able to get back to the court, field, slopes, dance floor and track are the best proof that painkillers and joint replacement implants are not the only options. Learn more about about Regeneris Medical and its nationwide affiliate program at regenerismedical.com