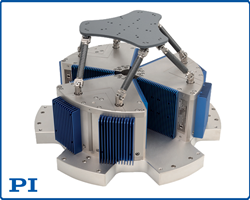 Auburn, MA (PRWEB) November 06, 2017
Google engineers know that a shaky hand can ruin a selfie so they designed the shake out of the Pixel 2 camera using PI's H-860 high speed hexapod system that accurately simulates motion with 6 degrees of freedom. The high accuracy and bandwidth of the shaker hexapod is a critical tool for optimizing motion and image stabilization algorithms, such as used in drones and cameras. The result is pinpoint accurate crisp images. Renowned industry-wide for nanometer precision motion systems, PI's family of parallel-kinematic hexapod motion systems have many applications, including vibration simulation, precision positioning, lens alignment in camera manufacturing, photonic fiber alignment and image stabilization.
Freely Defineable Trajectory and Pivot Point
The 6-axis hexapod motion system is based on parallel kinematic structure with six frictionless actuators to provide six degrees of freedom. The user-defined pivot point (center of rotation) can be changed on the fly by one software command for increased versatility. Tracking of pre-defined trajectories, sinusoidal curves, and freely definable paths with high trajectory accuracy can easily be programmed with the included software tools.
Benefits of Shaker Hexapod
The H-860 is designed to provide acceleration of 4g and velocity to 250 mm/sec– all while operating quietly. X, Y, Z travel range 15mm with incremental motion of 1µm, and up to 8° in pitch, yaw and roll (θX, θY, θZ) with 9 µrad incremental motion.
Strong and Light, Low Inertia
Extremely stiff and light-weighted carbon fiber components reduce the inertia and result in a high Eigenfrequency of 200Hz, important for fast response, high operating frequencies, and high throughput motion. The direct-drive hexapod comes with a powerful digital vector motion controller with open software architecture and hexapod-specific software.
More Hexapod Applications
Other hexapod applications may require higher load and motion ranges. PI's family of hexapods can handle loads from 1kg to more than 2000kg for applications as diverse as fiber alignment and automotive automation.
Read "Why Google Engineers can make better Cameras using PI's Direct-Drive Hexapod Multi-Axis Motion Platform" >
Specifications, Datasheet, More Information >
Standard and Custom
PI has over 4 decades of experience providing in-house engineered precision motion control solutions, and can quickly modify existing product designs or provide a fully customized OEM part to fit the exact requirements of the customer's application.
PI (Physik Instrumente) L.P. l 16 Albert Street l Auburn, MA 01501 l http://www.pi-usa.us l info@pi-usa.us
USA / Canada
East (508) 832-3456
Midwest (508) 832-3456
West (949) 679-9191 (LA Area & Mexico), (408) 533-0973 (Silicon Valley/Bay Area)
About PI
PI is a leading manufacturer of precision motion control equipment, piezo motors, air bearing stages, and hexapod parallel-kinematics for semiconductor applications, photonics, bio-nano-technology and medical engineering. PI has been developing and manufacturing standard & custom precision products with piezoceramic and electromagnetic drives for 4 decades. The company has been ISO 9001 certified since 1994 and provides innovative, high-quality solutions for OEM and research. PI is present worldwide with 15 subsidiaries, R&D / engineering on 3 continents and total staff of more than 1,000.