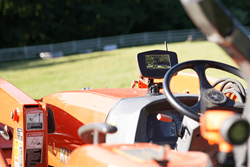 JUPITER, Fla. (PRWEB) November 03, 2017
Producers of the award-winning American Farmer television series proudly announce the participation of Hyndsight Vision Systems, Inc. (Hyndsight Vision) in upcoming episode, which is scheduled to broadcast first quarter 2018. American Farmer airs Tuesdays at 8:30am ET on RFD-TV.
In this segment, viewers will learn about Hyndsight Vision's wireless cameras and monitoring systems for agriculture applications. With increased safety and productivity through better visualization, farmers are able to monitor grain levels in chaser bins, eliminate blind spots on tractors, observe automatic cattle milking, or use in airplanes for crop dusting.
"With so much going on all at once on the farm, it is nice to have a means of monitoring everything," said Jennifer Tierney, senior producer for the series. "We look forward to enlightening audiences on this technology."
***
About American Farmer:
American Farmer is a breakthrough program on a mission to showcase the latest advancements in agriculture and farming. From seed to harvest, livestock and more, our producers have traveled the country covering the people, places and issues impacting all areas of farm country.
American Farmer airs Tuesdays at 8:30am ET on RFD-TV. Check your local listing for show times.
For more information visit http://www.AmericanFarmerTV.com or call 866.496.4065.