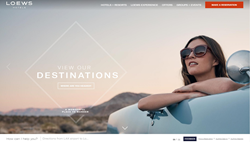 NEW YORK (PRWEB) November 04, 2017
HEBS Digital announces the launch of the new website for Loews Hotels, resulting in a completely reinvented and revitalized multi-device digital presence. HEBS Digital worked with the Loews Hotel team to create a website that would be both focused on driving conversions and conveying the experience guests would have once at any of the twenty-four properties.
"The HEBS Digital team created a website with functionality suited to our needs and a design in line with our redefined company architecture," said Jacob Messina, Loews Hotels & Co Senior Director eCommerce & Performance Marketing. "HEBS is an extension of our Commercial team, we are very pleased with the end result and our new website."
A successful hotel website must incorporate the right balance of excellent design with technology that is built to drive direct hotel bookings i.e. to incorporate the right balance of "Beauty and Science." When there is the right technology powering the hotel website, hoteliers are able to engage, retain, and acquire past and future guests, and increase direct revenue in this time of flattening occupancy rates and increased distribution costs.
The Loews Hotel website is backed by HEBS Digital's award-winning smartCMS® Website Technology Platform. Designed specifically for the hospitality industry, the smartCMS® drives direct booking via more than 30 revenue-generating modules for need periods and occupancy demands by targeting feeder markets and market segments, loyalty members and past guest and in-market travelers via real-time control of content and promotions.
The new Loews Hotels website encompasses a multitude of direct bookings-focused functionalities including:

A Spotlight Search functionality with fast type-ahead search that allows users to effortlessly find relevant content on the website.
Suite of reservation abandonment tools to recover abandoned bookings, including lightbox displays and emailers.
Live Rates solution which features real-time rates and availability on promo tiles throughout the website.
Smart Personalization Engine that serves the most relevant content to the website visitor based on their location and/or if they are a YouFirst loyalty program member.
Smart Booking Widget which remembers the visitor's selection and displays it throughout the site and during future visits.
YouFirst Rewards loyalty program portal with the ability to view personalized content, member status and level-based perks.
Advance Content Manager that enables a visually engaging, rich user experience.
Performance enhancements to reduce server response time by 10-15%, increasing overall website user experience and download speeds.
A fully responsive website experience built on the latest web coding standards.
A fully-integrated, custom booking engine for a streamlined experience on all devices. Website visitors can check availability, make and modify a reservation without leaving the main site.
"The HEBS Digital team worked incredibly hard to deliver the new Loews Hotels brand website, and in record-breaking time" said HEBS Digital President and CEO Max Starkov. "The Loews Hotel brand is prestigious in the industry, and it was incredibly important to us to bring their signature luxury experience to life digitally as well as deliver a website that would continue to drive outstanding results. We are honored to have been chosen for this project, and look forward to seeing continued and powerful results."
To explore the new Loews Hotels website visit http://www.loewshotels.com.
About Loews Hotels & Co.
Established 1960
Headquartered in New York City, Loews Hotels & Co is a hospitality company rooted in deep heritage in the hotel industry and excellence in service. The hospitality group encompasses branded independent Loews Hotels, and a solid mix of partner-brand hotels. Loews Hotels & Co. owns and/or operates 24 hotels and resorts across the U.S. and Canada, including Bisha Hotel & Residences, Toronto's newest luxury hotel and the Loews Sapphire Falls Resort at Universal Orlando, the fifth hotel in partnership with Comcast NBC Universal. Located in major city centers and resort destinations from coast to coast, the Loews Hotels portfolio features properties grounded in family heritage and dedicated delivering unscripted guest moments all with a handcrafted approach. For reservations or more information about Loews Hotels, call 1-800-23-LOEWS or visit: http://www.loewshotels.com.
About HEBS Digital
Founded in 2001, the firm is headquartered in New York City and has global offices in Las Vegas, London, Europe, Singapore and Auckland. Through its Smart Guest Acquisition Suite, including the smartCMS®, Smart Personalization Engine, Smart Data Marketing, and full-stack digital consulting and marketing solutions, HEBS Digital helps hoteliers drastically boost direct bookings, lower distribution costs, and increase lifetime value of guests.
With the combination of HEBS Digital and Serenata CRM, the most comprehensive Hotel CRM Suite today, the hospitality industry's first Fully-Integrated 360-Degree Guest Engagement & Acquisition Platform.
A diverse client portfolio of top-tier luxury and boutique hotel chains, independent hotels, resorts and casinos, franchised properties and hotel management companies, convention centers, spas, restaurants, DMO and tourist offices across the globe are all benefiting from HEBS Digital's direct online channel strategy and digital marketing expertise.
HEBS Digital's technology, website design and digital marketing services have won more than 400 prestigious industry awards, including World Travel Awards, HSMAI Adrian Awards, Stevie Awards (American Business Awards), Travel Weekly's Magellan Awards, and more.
The HEBS Digital team is comprised of thought leaders, a diverse team of experts comprised of over 33 nationalities speaking over 22 languages. Contact HEBS Digital's consultants at 1 (800) 649-5076 (North America), +44 (0) 7730 779 213 (London), +64 (0) 9 889 8489 (Australia, New Zealand, South Pacific), +65 9005 1589 (Asia), or success(at)hebsdigital(dot)com.