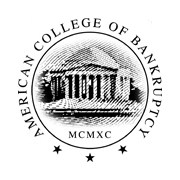 Stanardsville, VA (PRWEB) November 03, 2017
The American College of Bankruptcy ("the College") and the American College of Bankruptcy Foundation ("the Foundation") announced today that they have awarded 63 pro bono grants totaling $480,000 to legal services organizations located in 27 different states and the District of Columbia. As one of their missions, the College and its Foundation award grants to organizations whose activities provide assistance to individuals and groups in need of bankruptcy-related legal representation, training and/or education. Since 2015, the College and Foundation have awarded nearly $1.3 million in grants to these worthy programs.
The grants issued in 2017 include the following:
Alameda County Bar Association Volunteer Legal Services Corporation
Oakland, CA
Bankruptcy Bar Foundation
Tamarac, FL
Bay Area Legal Aid
Oakland, CA
Birmingham Bar Volunteer Lawyers Program
Birmingham, AL
Brooklyn Legal Services Corporation A
Brooklyn, NY
California Western Community Law Project
San Diego, CA
Catholic Charities of the Archdiocese of Chicago
Chicago, IL
Chicago Volunteer Legal Services
Chicago, IL
City Bar Justice Center
New York, NY
Clark County VLP
Vancouver, WA
Community Justice Inc.
Madison, WI
Community Law Program Inc.
St. Petersburg, FL
Community Legal Aid Services Inc.
Akron, OH
Community Legal Services of Mid-Florida
Daytona Beach, FL
Community Legal Services/VLP
Phoenix, AZ
Consumer Education and Training Services ("CENTS")
Seattle, WA
Dade Legal Aid-Put Something Back
Miami, FL
DC Bar Pro Bono Center
Washington, DC
District 10 Pro Bono Project Inc.
Bloomington, IN
Elder Law of Michigan
Lansing, MI
Georgia Legal Services Program
Brunswick, GA
Greater Dayton Volunteer Lawyers Project
Dayton, OH
Idaho Legal Aid Services, Inc.
Boise, ID
Illinois Legal Aid Online
Chicago, IL
King County Bar Foundation
Seattle, WA
Legal Action of Wisconsin Inc.
Milwaukee, WI
Legal Aid of Northwest Texas
Ft. Worth, TX
Legal Aid of Southeastern Pennsylvania
Norristown, PA
Legal Aid Services of Oklahoma, Inc.
Oklahoma City, OK
Legal Aid Services of Oregon
Portland, OR
Legal Aid Society of Greater Cincinnati
Cincinnati, OH
Legal Aid Society of Palm Beach County
West Palm Beach, FL
Legal Assistance Foundation
Chicago, IL
Legal Services Law Line of Vermont
Burlington, VT
Legal Services NYC
New York, NY
Legal Services of the Hudson Valley
White Plains, NY
Louisiana Civil Justice Center
New Orleans, LA
Mid-Shore Pro Bono, Inc.
Easton, MD
Military Assistance Project
Philadelphia, PA
National Consumer Bankruptcy Rights Center
San Jose, CA
Neighborhood Legal Services Association
Pittsburgh, PA
Nevada Legal Services
Las Vegas, NV
New York Legal Assistance Group (NYLAG)
New York, NY
Open Door Legal
San Francisco, CA
Prairie State Legal Services, Inc.
Rockford, IL
Pro Bono Net Inc.
New York, NY
Pro Bono Resource Center of Maryland
Baltimore, MD
Public Counsel
Los Angeles, CA
Public Law Center
Santa Ana, CA
Public Service Law Corporation
Riverside, CA
Rutgers University School of Law
Camden, NJ
Southern Arizona Legal Aid Inc.
Tucson, AZ
St. Louis Bar Foundation
St. Louis, MO
Step Up to Justice
Tucson, AZ
The Legal Project
Albany, NY
The Pro Bono Project
New Orleans, LA
Veterans Legal Services
Boston, MA
Voluntary Legal Services Program of N. California, Inc.
Sacramento, CA
Volunteer Attorney Program
Duluth, MN
Volunteer Lawyers for Justice, Inc.
Newark, NJ
Volunteer Lawyers Network
Minneapolis, MN
Volunteer Lawyers Project Inc.
Portland, ME
Volunteer Lawyer Project of Boston Bar Association
Boston, MA
In addition, the Foundation has awarded its Michael L. Cook Extraordinary Grant to the St. Louis Bar Foundation, which serves as the philanthropic arm of the Bar Association of Metropolitan St. Louis. The St. Louis organization seeks to improve the administration of justice through law-related education, charitable undertakings, and to strengthen the legal profession by encouraging attorneys to reach the highest levels of professionalism and civility and engage in meaningful community service.
The Michael L. Cook Extraordinary Grant was created in Mr. Cook's honor in 2016, and is awarded to a legal services organization that offers an innovative and exemplary approach to a previously underserved area of need. A Fellow since 1997, Michael Cook served as Chair and President of the College and Chair of its Board of Regents during the period from 2010-2016, and as Chair of the Pro Bono Committee from 2008-2010. "During both his many years of exemplary service to the College and his long and distinguished career, Mike has been a tireless advocate, visionary leader and relentless fund-raiser on behalf of programs that provide pro bono legal services throughout the United States," said G. Christopher Meyer, current Chair of the College.
The American College of Bankruptcy is an honorary association of bankruptcy and insolvency professionals. The Fellows of the College are selected for membership based on a proven record of the highest standards of professionalism and service to the profession, and include commercial and consumer bankruptcy attorneys, bankruptcy and other federal judges, bankruptcy trustees, United States Trustees and other federal officials, law school professors, and others involved in the bankruptcy and insolvency profession. The College offers unique and challenging educational programs and publications, maintains the National Bankruptcy Archives at the University of Pennsylvania School of Law, and is believed to be the single largest financial supporter of pro bono bankruptcy services in the United States. There are approximately 900 Fellows of the College. The American College of Bankruptcy Foundation is a Section 501(c)(3) charitable organization, supported by the College and by tax-deductible contributions from Fellows of the College and others. For additional information about the College and the Foundation please contact Shari Bedker, Executive Director, at sbedker@amercol.org or 434-939-6004.