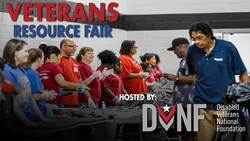 Washington, DC (PRWEB) November 03, 2017
The Disabled Veterans National Foundation (DVNF) (http://www.dvnf.org) is set to host its first annual Veterans Day Resource Fair on November 9th to support veterans in the DC Metro area.
What:
In honor of Veterans Day, DVNF wanted to do something special to recognize the service and sacrifice of all veterans by not only thanking them, but also by reaching out and giving back. The purpose of this event is to give veterans in the DC area an opportunity to receive many services from local government and nonprofit organizations.
DC, Maryland, and Virginia employment and education officials will be in attendance, as well as several nonprofits that offer a variety of services to veterans, from benefits information to recreational therapy, and more.
In addition to these useful resources, there will be free items being offered to veterans who attend, including:

Free Suits – Brand new business attire, intended for job-seeking veterans, made possible by Joseph A. Bank, a corporate partner of DVNF.
Free Food – Courtesy of Papa John's Pizza, Mission BBQ, SpartanNash Foods, and Chik-Fil-A.
Comfort Kits – From DVNF's Health & Comfort program.
Gift Cards
Raffle Items
Yoga Classes – Provided by Warriors at Ease
Where:
Silver Spring Civic Building in Silver Spring, MD
1 Veterans Pl.
Silver Spring, MD 20910
When:
Thursday, November 9th from 9AM – 2PM
Who Can Attend:
This event is completely FREE and is open to all veterans of any era.
How to Sign Up:
Visit this page to pre-register. For veterans who do not have access to a computer, there will be a registration table at the event (we will need proof of service – such as a DD-214 or a military or veterans ID card).
Service Providers:
Adrinne Stewart – PG County Economic Development Corporation Workforce Service Division
Timothy Walker – Maryland Department of Labor, Workforce Development and Adult Learning
Samara Alexander – Virginia Department of Veteran Services (Information on Health Benefits, Disability Compensation, VA Pension, Survivor Benefits, Home Loan Guarantees, Education Benefits)
Patrick Onofre – DoD National Resource Directory (Providing access to services and resources at the national, state and local levels to support recovery, rehabilitation and community reintegration)
Central Union Mission.
Vietnam Veterans of America
The Fenwick Foundation
Metropolitan Institute of Health & Technology
Project Waters Healing Fly Fishing
Veterans Upward Bound
Hope for the Warriors
Warriors at Ease
Sponsors:
Joseph A. Bank
SpartanNash Foods
Papa John's Pizza
Mission BBQ
Chik-Fil-A