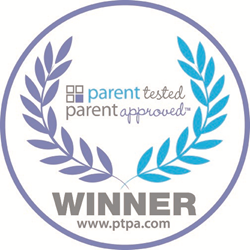 Concord, ON (PRWEB) November 07, 2017
Top Awards Organization PTPA Media Inc. today reveals the latest round of winners of the Parent Tested Parent Approved certification. The results come after a quantitative and qualitative approval process in which select families from PTPA's community of over 85,000 sample and experience that product in their daily lives.
For parents, PTPA is a free community. Parents sign up and receive products at no cost to enjoy in exchange for their honest opinions. No payments or incentives are made to the testers to ensure unbiased feedback on the product. Feedback is sent to the companies, which helps shape the way products are made and marketed. For winning products, the certification effortlessly conveys quality, authenticity, and trust. Our award recipients have something to brag about!
Parent Tested Parent Approved Award Recipients
Following is the complete list of PTPA Media's latest round of recipients of the certification:
Dyson Ball Animal 2
PROcure Hydrocortisone Cream
Dyson Pure Hot+Cool Link Air Purifier
Dyson Pure Cool Link air purifier
Aldi SimplyNature Fruit Squeezies
LeapFrog Epic Academy Edition
LeapFrog Scoop & Learn Ice Cream Cart
3D Light Innovations Deco Light
Biiby – The Breastfeeding Bib
Milk Snob Drawstring Cover
VTech Pop-a-Balls Drop & Pop Ball Pit
VTech KidiBuzz
VTech Go! Go! Smart Wheels® Race & Play Adventure Park
VTechTouch & Learn Activity Desk Deluxe
How Winners Are Determined
Families across North America participate in the testing process, at no cost to them. They evaluate the products with their families in real life environments rather than simply conducting a consumer vote. Their feedback and evaluations are carefully tallied and curated, and products that meet their standards earn the coveted Parent Tested Parent Approved certification, which can be leveraged on packaging, advertising, end-cap displays, and more. News of the victory is shared among our community of over 85,000 families. Independent research has confirmed that the PTPA certification ranks among the top 3 most recognized seals in North America.(1)
About PTPA Media Inc.
"At PTPA Media, we are proud to play a role in certifying innovative products that families can trust," says Sharon Vinderine, Founder & CEO of PTPA Media. "Over 83% of consumers say that they make their purchasing decisions based on peer recommendations. Seeing the Parent Tested Parent Approved certification on a product helps consumers make informed purchasing decisions on something other than price points. If your peers loved it, there is a high likelihood that you will as well." For more information visit http://www.ptpamedia.com.
(1) Survey conducted by Research Now
For further information: Sharon Vinderine, 905-738-1447