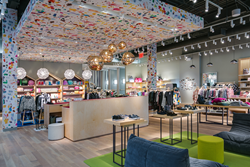 GREENVALE, N.Y. (PRWEB) November 06, 2017
Everafter is a kid-to-teen lifestyle boutique for boys and girls ages 4 to 14. The shop offers a curated assortment, with designer apparel from Stella McCartney, Milly, Little Marc Jacobs, and Scotch and Soda, to casual styles from Aviator Nation and Spiritual Gangster.
Founding husband and wife team, Haro and Sari Sloane Keledjian, Founder and former Fashion Director at INTERMIX respectively, were determined to create a one-stop shop offering the best designers, handpicked outfits and just plain "cool stuff" for kids and teens. They designed the boutique to be stylish, interactive and comfortable. It features modern and colorful furniture, artist-commissioned wallpaper and custom designed fixtures at a kid-friendly height. Shoppers are encouraged to check out the interactive photo booth to snap a photo or boomerang video.
Everafter is a home away from home for shoppers; a fun boutique where families can spend an afternoon shopping and taking part in weekly events from nail art to hair tinsel to customization bars.
Sharing the space is the Keledjian's other brainchild, The Westside. The Westside is a California-inspired lifestyle boutique with an edited collection of womenswear, menswear, and accessories, plus beauty, apothecary, and home goods. The Westside exudes laid-back, effortless style, and brings a taste ofCalifornia to the East Coast. The curated assortment of denim, t-shirts, sweats and cashmere offers casual and chic styles for men and women.
With its cool and modern assortment, the boutique is designed to feel organic and residential. Carefully designed with a neutral palette, pops of blue and green give a taste of the beach and highlight the simplicity
of casual living.
Located in Greenvale, on Long Island's North Shore, Wheatley Plaza is home to 25 shops including London Jewelers, The Nines, Maddy's 390, Funky Monkey Toys & Books, Mansouri, Salon Pop, Leggiadro, Jildor, Tutti, Paper Source, Bar Frites Restaurant and more! Sky-lighted covered walks, lush flower beds and sculptured landscaping are just a few of the architectural concepts that make Wheatley Plaza a unique shopping destination.
For more information please visit wheatleyplaza.com. Follow Wheatley Plaza on Instagram!