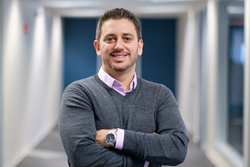 LOS ANGELES (PRWEB) November 06, 2017
Cloudbreak Health, LLC (Cloudbreak), a leader in unified telemedicine solutions, announced healthcare industry veteran, Dan Shur, as its executive vice president of solutions and innovation. Shur has more than 25-years of experience in the healthcare industry.
"Dan has significant expertise in creating easy-to-use platforms addressing significant market needs learned from being on the front lines of healthcare for over two and a half decades," said Jamey Edwards, co-founder and CEO of Cloudbreak Health. "Dan's breadth and depth of experience in creating innovative products, customized strategies and market leading solutions is vital as we deliver our telemedicine solutions to the entire continuum of care. His contribution will be instrumental in our mission to provide unified telemedicine solutions for the healthcare enterprise."
Most recently, Shur was vice president of Healthcare Services at Progyny, the fertility benefits startup, where he was credited with launching and sustaining the venture by providing key leadership and expertise through a Series B funding round. Previously, Shur held prominent leadership roles with EmblemHealth, reengineering the way it serves patients and providers, and healthcare giant Cigna, shaping its modern care management capabilities.
"Cloudbreak is disrupting healthcare on a fundamental level by providing sensible solutions that promote true systems interoperability and bring the fragmented healthcare ecosystem together," said Shur. "Its mission aligns with the goal I've devoted my career to— humanizing healthcare and serving others by building a system of intelligent care access, using technology and creative design to increase efficiency for all."
Shur will oversee the product development team and lead the effort to help Cloudbreak's enterprise healthcare clients directly translate their unique telemedicine strategies into fully customized private-labeled platforms. Shur graduated from Cornell University where he went on to earn his MBA from the University's S.C. Johnson Graduate School of Management, focusing his studies on operational design, product innovation and strategy, and supply chain management.
About Cloudbreak Health, LLC
Cloudbreak Health provides more than one million minutes of telemedicine consultation each month and links to the Cloudbreak Telehealth Marketplace with thousands of providers. Performing over 75,000 encounters per month at over 700 hospitals, the Cloudbreak platform simplifies how providers care for patients, putting a full care continuum at their fingertips 24/7. Learn more at http://www.cloudbreak.us.
Cloudbreak's MarttiTM platform has provided more than 26 million minutes of medical interpretation to upwards of two million patients with quick and easy communication for patients who are Limited English Proficient (LEP) or Deaf/Hard-of-Hearing via live video or telephone in more than 250 languages (including American Sign Language). Nearly 60 languages are available in live video – the largest video offering in the industry. For more information, visit http://www.martti.us.