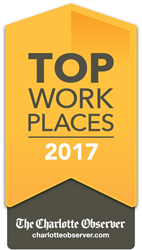 To our employees, the Barefoot family wants to say thank you for making Barefoot and Company a top workplace!
CHARLOTTE, N.C. (PRWEB) November 06, 2017
Barefoot and Company has been awarded a 2017 Top Workplaces honor by The Charlotte Observer. The Top Workplaces lists are based solely on the results of an employee feedback survey administered by WorkplaceDynamics, LLC, a leading research firm that specializes in organizational health and workplace improvement.
"The Top Workplaces award is not a popularity contest. And oftentimes, people assume it's all about fancy perks and benefits," says Doug Claffey, CEO of WorkplaceDynamics. "But to be a Top Workplace, organizations must meet our strict standards for organizational health. And who better to ask about work life than the people who live the culture every day—the employees. Time and time again, our research has proven that what's most important to them is a strong belief in where the organization is headed, how it's going to get there, and the feeling that everyone is in it together." Claffey adds, "Without this sense of connection, an organization doesn't have a shot at being named a Top Workplace."
Over the past eleven years, Workplace Dynamics has surveyed over 16 million employees to determine what truly makes a company a "Top Workplace." To even be considered for this award, organizations must meet stringent guidelines designed to separate leaders from the pack. This is evidenced by the success of past winners, which include NPR, Microsoft, and HubSpot, just to name a few. When making their determinations, Workplace Dynamics evaluates the entirety of a company's workplace culture, factoring in Alignment, Execution, and Connection, among many other criteria.
"Receiving this award is a great honor," says Barefoot and Company's Laura Barefoot. "We are truly blessed to work with such an amazing team, and we're humbled by the positive feedback from our employees. If it wasn't for them, our products would simply sit on a shelf. To our employees, the Barefoot family wants to say thank you for making Barefoot and Company not only a top workplace, but also a leader in the building industry. We couldn't do it without you."
About Barefoot & Company:
Barefoot and Company is Charlotte's leading supplier and installer of specialty products to the building industry. They are a single source, turn key supplier of shower doors, mirrors, specialty glass, closet systems, windows and screens, exterior doors, bath accessories, as well as door hardware, locks, blinds, shades, and shutters. Since 1971, the company has remained committed to quality products, processes and people. For more information, visit http://www.BarefootandCompany.com
About WorkplaceDynamics, LLC:
Headquartered in Exton, PA, WorkplaceDynamics specializes in employee feedback surveys and workplace improvement. This year alone, more than two million employees in over 6,000 organizations will participate in the Top Workplaces™ campaign—a program it conducts in partnership with more than 40 prestigious media partners across the United States. Workplace Dynamics also provides consulting services to improve employee engagement and organizational health. WorkplaceDynamics is a founding B Corporation member, a coalition of organizations that are leading a global movement to redefine success in business by offering a positive vision of a better way to do business.