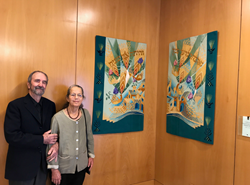 "This donation of artistic works by the Felder family to The Reutlinger Community is a great honor. The tapestries and wall quilt by world renowned artists will forever have a home here where they will be admired by many on a daily basis." Jay Zimmer, CEO, The Reutlinger Community
DANVILLE, Calif. (PRWEB) November 05, 2017
The family of Hannah Felder z'l commissioned two works of art, a tapestry by Jean Pierre Larochette and Yael Lurie, and a wall quilt by Iris Sonnenschein, to honor her memory. They will be enhancing the walls of The Reutlinger Community in Danville where she was a resident. The beautifully crafted works are a tribute to Hannah's love of art and devotion to giving back to others in a positive way.
At the dedication of the creative arts to Reutlinger, Hannah's son Dan Felder expressed how The Reutlinger Community became his mother's extended family, that her time there was positive, and provided a nurturing environment, which was a comfort to the whole family. Hannah was engaged in the Art Program, participated in many creative activities and lectures, and she especially loved the ones with Jewish content. Hannah's 95-year-old brother, Gabe Felder, also spoke lovingly about her very interesting and productive life. Fourteen members, from different parts of the country, came together for the special ceremony on October 15, 2017.
Jay Zimmer, CEO and President of The Reutlinger Community, fully supports the vibrant art studio and programs offered to residents, and acknowledged the positive effect the creative process has for many seniors. "Hannah was able to express herself, her feelings and memories through painting, which was a source of achievement and pride for her. We were honored to have Hannah with us, and deeply appreciate the Felder family's generosity."
More on the artists:
Jean Pierre Larochette and Yael Lurie first began their collaboration in 1967, but it wasn't until the mid- 1980's that they began working exclusively with each other. Many credit the success of tapestry in the United States to these two artists. Both had their early exposure and development with tapestry in other countries. Jean Pierre was born in Argentina, son of a long line of French Aubusson weavers, and Yael, the daughter of a painter, was brought up in a kibbutz in Israel and trained as a painter and cartonnier. They met while under the patronage of the famous French father of the revival of tapestry in 20 century France, Jean Lurcat.
Iris Sonnenschein is a self-taught textile artist who began quilting in 1990 with a group of new friends who got together every month to learn traditional techniques and designs. Over the years, she turned her focus to Judaica and art quilts, many of which express scenes from Israel. Iris states she finds her inspiration in nature, music, and other works of art. Her works evoke a sense of place, rather than one object.
The Reutlinger Community is a five-star continuum of care senior living provider offering assisted living, memory care, skilled nursing and long and short term rehabilitation; located at 4000 Camino Tassajara, Danville, CA. (925) 648-2800. http://www.rcjl.org.