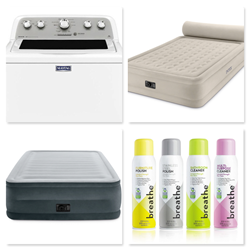 "Prepping for overnight holiday guests need not be stressful," says lifestyle expert Jeni Bond
New York, NY (PRWEB) November 07, 2017
"With the holidays less than two months away, it's not too soon to prep your home for overnight visitors," says lifestyle expert Jeni Bond of FunTrendsUSA.com.
Jeni recommends the following products to help reduce stress for hosts and hostesses before, during and after their guests arrive:

"The Maytag Bravos Top-Load washing machine offers a large capacity of 4.3 cubic feet to help tackle large loads, with enough space to clean up to 18 towels at once! Delivering the 'Best Cleaning in its class,' driven by its PowerWash Cycle, the Bravos combines extra cleaning action and heated water to attack stubborn stains.Visit Maytag.com/NovemberSavings for information on how you can save big during the month of November!"
"Intex allows you to treat your guests to a great night's sleep with their Queen Ultra Plush Headboard Airbed with Fiber Tech Technology, or their 22 inch Comfort-Plush High-Rise Queen Airbed. The Plush Headboard Airbed was designed for folks who like to feel they're sleeping in a traditional bed. And the Comfort Plush High-Rise is the tallest airbed on the market. Both include a built-in pump. They're available at Walmart, Amazon and other retailers."
"Breathe is the first aerosol household cleaning line certified by the EPA's Safer Choice Program. They are powered by air and made with 100% eco-friendly, non-toxic ingredients making it safer for people, pets and the environment. The Breathe line consists of a Stainless Steel Cleaner, Furniture Polish, Bathroom Cleaner and Multipurpose Cleaner. Breathe is available on Amazon and at Wegmans."
For more information, contact: Jeni Bond on Twitter @JeniBondSays or Barry D. Miller, Miller/Weiner Communications at 551-697-3007 or barry(at)miller-weiner(dot)com.