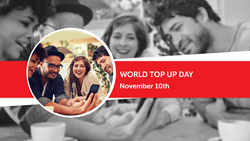 I love it.Yep, I love it. Quick, convenient and easy. No muss, no fuss. (Gloria Downing on Trustpilot.com)
Atlanta, Georgia (PRWEB) November 06, 2017
Third year in a row, expats are celebrated as generous Givers on November 10, 2017. The purpose of this day is to offer a new perspective on the supportive role of Expats in their families' lives, as well as the community they are now part of. This year, MobileRecharge.com, the expat service that established the event in 2015, has 3 top up prizes on its Facebook page starting November 7, and no fee top up offer on the website on November 10, 2017. Besides Facebook giveaways and the fact that MobileRecharge.com drops the processing fee for everyone on November 10, 2017, everyone placing an order on November 10 enters automatically a website race to win a year worth of monthly free mobile top . The website contest offers 3 prizes of the kind.
Everyone placing an order on November 10, 2017, World Top Up Day celebrating Givers, will pay no fees, plus he/she gets the chance to win a monthly free top up for a whole year. The condition to recharge someone's mobile from the distance, on MobileRecharge.com, is to have an account on the website, which costs nothing to open and maintain. Plus, everyone benefits of weekly bonuses, and there are no contract constraints, actually no contract at all. Also, the mobile credit recharged only gets to the destination number instantly, which makes the service very popular among expats.
On MobileRecharge.com Facebook page that gathers a mixed expat community, 3 simple and fun contests are running between November 7 - 9, 2017. For each contest there will be a winner. The organisers will single out randomly a winner the day following each contest. And each winner will receive a mobile top up for a relative or a friend abroad.
Thousands of expats will celebrate World Top Up Day in 2017 as well. MobileRecharge.com has upgraded its generosity as well, and offers new surprises this year:
-Facebook contests bring top up prizes between November 7-9.
-No fees will apply on November 10, 2017, on MobileRecharge.com. In other words, what people pay is precisely the credit amount they add to the prepaid mobile phone.
-People who send a mobile top up on MobileRecharge.com on November 10, World Top Up Day get the chance to win a monthly top up for a whole year.
MobileRecharge.com has initiated World Top Up Day to point out a phenomenon that had little to no visibility on the public arena. Expats are a large and string category that deserves the label of "Givers", for several reasons: they are a huge and valuable working source and have skills that make a difference in the lives of foreigners they meet. They are also Givers because they share their culture and knowledge with the new country which is not their motherland, plus they are mobile top up givers for their families back home, and generally supporters, which is their most valuable personality asset.
Since most of the customers on MobileRechrage.com are immigrants, they became the source of inspiration. World Top Up Day started in 2015 from the need to celebrate expats who support their families and friends back home with online mobile credit. But then the concept enlarged and this year, a new video will be launched taking "Giving" and "Expats" to a new level. The World Top Up video focuses on the impact jobs make on people that benefit from it, and raising awareness on such social effects. Expats have different jobs in the fostering countries, and each has a service to deliver, someone to help. This makes everyone working, including expats, some valuable Givers. The video will be launched just before World Top Up Day on YouTube: http://www.youtube.com/c/MobileRecharge.
The top up service on MobileRecharge.com facilitates mobile credit transfers in seconds, without any contract between the provider and the sender. The account comes with a number of advantages:
-MobileRecharge app is available for mobile top ups on the go, for both Android and iOS devices.
-The account costs nothing and is available in several languages including Spanish and English
-"Promotions" tab in the menu centralizes all daily deals on MobileRecharge.com. They are also published on MobileRecharge app.
-Users get major offers by email if they press the "Get offers" button on the homepage.
-Payment is welcome in any currency, and PayPal is accepted besides all major cards.
-Safety is certified by the labels present on the website: "Verified & certified", Trustee, etc.
-Customer Service is highly supportive, and available 24/7 in both Spanish and English, and other international languages.
MobileRecharge.com is the initiator of World Top Up Day, and a brand of KeepCalling, a global telecommunications company registered in 2002 in the USA, listed by Inc 5000 as one of the fastest growing companies in the USA for 5 consecutive years. Presently, KeepCalling provides its services to hundreds of thousands of consumers , with a focus on customer satisfaction. In 2015 the company registered a revenue increase of over 200% from 2011 to 2014.