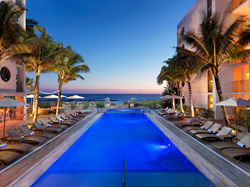 The Woodlands (Houston) , Texas (PRWEB) November 08, 2017
BENCHMARK, a global hospitality company, rolls out the year's best savings at two dozen of its resorts and hotels during its annual Super Cyber Weekend event. Running from Black Friday (November 24th) through Cyber Monday (November 27th), it includes extraordinary offers from BENCHMARK's two signature brands, BENCHMARK Resorts & Hotels and Gemstone Collection. Travelers will save up to 50% off stays in top U.S. and Caribbean destinations, including Boston, Miami, Orlando, Jackson Hole, Vail, and Curacao.
Access to these exclusive and extended values from BENCHMARK's diverse portfolio of properties unlocks an even broader range of experiences for adventure-seekers to soak in: shipwreck snorkeling in Florida's Vero Beach; wine tasting in Seattle's Woodinville wine country; snowy ski slopes in Colorado and Wyoming; historic exploration in San Antonio; and Disney dreams and championship greens in Orlando; among others.
Bookable via http://www.BenchmarkCyberWeekend.com, BENCHMARK's Super Cyber Weekend offers include the following:

Chaminade Resort & Spa, Santa Cruz, California – 50% off best available rates for stays through June 13, 2018
Copley Square Hotel, Boston, Massachusetts – 50% off stays through April 30, 2018
Costa d'Este Beach Resort & Spa, Vero Beach, Florida – 50% off stays through June 30, 2018
Garden of the Gods Collection, Colorado Springs, Colorado – 50% off two or more nights for stays through May 14, 2018
Graduate Berkeley, Berkeley, California – 50% off stays through April 7, 2018
Hotel Contessa, San Antonio, Texas – 50% off suite accommodations through April 30, 2018
Santa Barbara Beach & Golf Resort, Curacao (Caribbean) – 50% off stays through August 31, 2018
Snow King Hotel, Jackson Hole, Wyoming – 50% off best available rates for stays through March 31, 2018
The Grove Resort & Spa Orlando, Orlando, Florida – 50% off stays at this new Walt Disney World-area resort through September 30, 2018
The Nautical Beachfront Resort, Lake Havasu City, Arizona – 50% off two nights or more through February 28, 2018
Tivoli Lodge, Vail, Colorado – 50% off two nights or more
Additional participating hotels and resorts include the following:

Ames Boston Hotel, Boston, Massachusetts
The Heldrich, New Brunswick, New Jersey
Topnotch Resort, Stowe, Vermont
Doral Arrowwood, Rye Brook, New York
Eaglewood Resort, Itasca (Chicago), Illinois
Stonewall Resort, Roanoke, West Virginia
The Inn at Virginia Tech, Blacksburg, Virginia
Marenas Beach Resort, Sunny Isles Beach, Florida
Villas of Grand Cypress, Orlando, Florida
The Chattanoogan, Chattanooga, Tennessee
Spanish Garden Inn, Santa Barbara, California
Willows Lodge, Woodinville, Washington
Beachwalk Resort, Hallandale Beach, Florida
About Gemstone Collection
The Gemstone Collection includes distinctive hand-picked properties in spectacular and popular U.S. destinations coast to coast. Each upscale resort and hotel destination provides highly-personalized service and luxury reflective of the charm and unique character of the destination, while in keeping with the collection's shared mission and passion for excellence. A distinguished portfolio of BENCHMARK®, a global hospitality company, which has been a leading US-based hospitality management company for nearly 40 years, the Gemstone Collection is the preferred choice of guests who yearn for inspiring and transformative experiences, customization over conformity, stimulation over predictability, and adventure over routine. http://www.gemstonehotelcollection.com To become a fan on Facebook, visit http://www.facebook.com/GemstoneHotelCollection, or follow us on Twitter at http://www.twitter.com/GemstoneHotels, on Instagram at http://www.instagram.com/gemstonehotels, and on Pinterest at https://www.pinterest.com/benchmarkhotels/gemstone-hotels
About Benchmark Resorts & Hotels®
Benchmark Resorts & Hotels® features the finest in lodging, dining, recreational and meeting accommodations. Featuring unique and distinctive properties renown for exceptional service and for creating unforgettable memory-making experiences, it is the signature portfolio of BENCHMARK®, a global hospitality company, which has been a leading US-based hospitality management company for nearly 40 years. Many Benchmark Resort & Hotels' properties are certified by IACC, the association that represents the finest meeting venues and services globally, and many have also been recognized with the coveted Benchmark Conference Centers® certification of meeting excellence. http://www.benchmarkresortsandhotels.com. To become a fan on Facebook, visit http://www.facebook.com/BenchmarkResortsandHotels Follow us on Twitter at https://twitter.com/BenchmarkHotels, on Instagram at http://www.instagram.com/benchmarkresortsandhotels, and on Pinterest at http://www.pinterest.com/benchmarkhotels