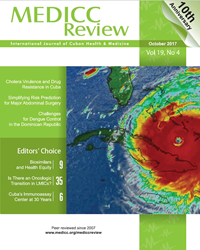 OAKLAND, Calif. (PRWEB) November 06, 2017
The latest issue of MEDICC Review, released in late October 2017, presents a diversity of articles by distinguished physicians and researchers from Cuban health and research institutions, as well as one co-authored article by a North American physician specializing in public health and a Dominican epidemiologist.
The article Human Evolutionary Carcinogenesis and Effects of Demographic and Epidemiologic Transitions in Low- and Middle-Income Countries reviews and evaluates recent theories of carcinogenesis and their relevance for the evolution of cancer among the populations of low- and middle-income countries (LMICs). The authors suggest that the LMICs are undergoing an "oncological transition," itself due to the demographic and epidemiologic transitions currently underway there (population increase and aging, and attendant increases in cancer incidence, prevalence and burden; and chronic non-communicable diseases' surpassing infectious diseases as leading causes of death).
Editor's Choice selections in this issue also include a Special Article, Biosimilars and the Real World. Biosimilars will become increasingly important in the world pharmacopeia. The authors argue for national strategies to ensure the broadest possible population coverage and suggest that a "totality of evidence" approach, coupled with intense pharmacovigilance, would reduce development costs and favor broad access to lifesaving therapies. Thirty Years of Technology at Work for Health is an interview with Niurka Carlos, Director of Cuba's Immunoassay Center, now in its 30th year. Among the remarkable achievements of the Center are nearly 10 million postnatal diagnostic tests administered in Cuba, and 126 million abroad.
See the current issue for the full Table of Contents and links to articles.
About MEDICC Review
MEDICC Review is the first peer-reviewed journal in English dedicated to publishing original manuscripts by Cuban health and related professionals on topics of medical research, population health, and policies and practice of health in Cuba. The journal also publishes international authors on subjects related to health equity and vulnerable populations. Over 40,000 articles are accessed monthly by readers in 140+ countries.
Published by Medical Education Cooperation with Cuba (MEDICC), Oakland, California, USA, MEDICC Review articles are available open access, free online and available through MEDLINE/PubMed and other indexing services: http://www.medicc.org/mediccreview.
About MEDICC
Founded in 1997, MEDICC is a US non-profit organization working to promote US-Cuba health collaboration and highlight Cuban public health contributions to global health equity and universal health. MEDICC  facilitates mutual learning opportunities in several ways: its documentary film ¡Salud!; the open-access, MEDLINE-indexed English journal, MEDICC Review; insightful trips to Cuba for US health policymakers, educators and practitioners; a national network of US communities whose leaders have been inspired to innovate for better health, thanks to their MEDICC-organized experiences in Cuba; and by serving as an institutional bridge-builder between US, Cuban and global health institutions and organizations. MEDICC also assists US graduates of Havana's Latin American Medical School to return home to practice in provider-shortage areas, and supports US policies that facilitate greater health cooperation with Cuba for the benefit of people in both countries. To achieve our vision of health for all, MEDICC works with a global alliance of people who care about how others in the world live, learn, work, eat, play, and receive health care.