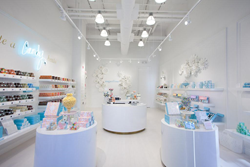 SuiteRetail listened to how our business works and went above and beyond our requirements. The POS is very easy to use and streamlines our checkout process for both clerks and customers, said Ryan Nelson, Vice President of Retail. They are super-passionate and knowledgeable when it comes to retail
(PRWEB) November 07, 2017
Sugarfina is on pace to double revenue this year. Over 40 stores have opened in the US, and next year Sugarfina plans to expand internationally.
Sugarfina's stunning, elegant fashion-forward confectionaries and packaging, a hit on social media channels such as Instagram, is a fresh and exciting take on candy. A unique online and in-store experience compliments the product and results in the perfect box of sweets for special gifts or events.
To execute their vision and effortlessly scale across new locations and channels, Sugarfina implemented Oracle NetSuite as their ERP solution on the back-end. For in-store sales, they turned to SuiteRetail, makers of SuitePOS, the leading point-of-sale solution for NetSuite. However, while SuitePOS is known for it's native, seamless integration to select ERPs, along with a modern and super-fast checkout process, it couldn't offer functionality out-of-the-box that matched up with Sugarfina's unique shopping experience.
When a customer walks into a Sugarfina store, they may be looking for a wedding-party custom themed box of confectionaries, or a standout gift of curated chocolates for someone special. The customer selects a Bento Box, flat-priced based on size, and then hand-picks each piece of candy to go into the box. Some of the candies may incur additional costs (eg. gold-plated chocolates), they may opt for a unique sleeve for the box, and there are matching up-sell recommendations or combos the customer may want to consider.
SuiteRetail worked with Sugarfina to come up with the most efficient and intuitive way for clerks to guide a customer through this process. A new SuitePOS module, "Dynamic Options" was born and the result was a reduction in checkout time and user errors along with an increase in average revenue per transaction. SuiteRetail also accommodated several other features to optimize all aspects of their in-store checkout process.
"SuiteRetail listened to how our business works and went above and beyond our requirements. The POS is very easy to use and streamlines our checkout process for both clerks and customers", said Ryan Nelson, Vice President of Retail. "They are super-passionate and knowledgeable when it comes to retail".
In the past, a retailer like Sugarfina would have had to consider expensive custom development requiring ongoing maintenance and costly support. By incorporating the functionality as a standard module, SuiteRetail is able to deliver the entire POS as a service, maintaining and supporting the solution without Sugarfina worrying about stability or legacy lock-in.
"When we launched SuitePOS a few years ago, objective #1 was to provide a simple, fast and modern POS with native integration to select ERP systems. We said "No" to a lot of feature requests", said Jeff Schneider, Co-founder of SuiteRetail. "Now we are ready to say "Yes", and the success of SuitePOS for Sugarfina proves it's possible to deliver enterprise-ready POS as a service, along with features to support amazing retail experiences. This is disruption at its finest. We want to send a message to larger retailers: You don't have to maintain your clunky and aging POS solutions any longer."
About Sugarfina:
Sweethearts Rosie O'Neill and Josh Resnick have dreamed of opening a luxury candy boutique ever since their third date, a screening of Willy Wonka and the Chocolate Factory. They fell in love over the unique and delicious candies they tasted while traveling and were inspired to bring a new concept in gourmet candy to the United States. Named one of the world's most beautiful candy shops by Architectural Digest, Sugarfina opened November 2013 in Beverly Hills and now includes 26 boutiques and 14 Nordstrom shop-in-shops in North America in major cities such as Los Angeles, New York, San Francisco, Boston, Chicago and Vancouver. Before Sugarfina, Rosie and Josh had every kid's dream job - Rosie was Director of Marketing for Barbie, and Josh was the co-founder and President of Pandemic Studios, a major video game developer.
About SuiteRetail:
Several years ago we set out to develop a Point-of-Sale solution to transform the way retailers work. Today our Apple-based product, SuitePOS, is deployed at some of the most modern and sophisticated omni-channel retailers in the world running Oracle NetSuite and Salesforce technologies. Solutions from SuiteRetail are built around SuitePOS which fulfills a wide-range of in-store requirements. SuiteRetail is managed completely in the cloud as part of one integrated omnichannel ERP/CRM suite. SuitePOS supports rapid multi-lane and mobile POS checkout, special orders, customer management, reporting and use of leading-edge hardware.