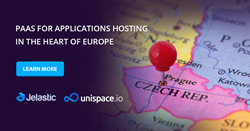 In a synergy with Unispace, we provide developers and startups in the Czech Republic with the next generation PaaS ensuring scalability for their projects growth, advanced management of containerized applications throughout the lifecycle, hosting within local data center & support in native language
PALO ALTO, Calif. (PRWEB) November 07, 2017
Jelastic, the advanced PaaS that simplifies complex cloud deployments and available within 60 data centers worldwide, today announces partnership with Unispace.io, a young dynamic company based in the Czech Republic, to locally provide high quality cloud platform for developers and SMBs. The long-term strategic core focus of this alliance is to unify platform flexibility, security and availability with the best customer experience.
"In a synergy with Unispace, we are glad to provide developers and startups in the Czech Republic with the next generation PaaS ensuring scalability for their projects growth, advanced management of containerized applications throughout the lifecycle, hosting within local data center, and support in native language," said Ruslan Synytsky, Jelastic CEO.
With Jelastic PaaS, Unispace started to offer a new way of going to market faster for companies within the Czech Republic and the whole Europe. This new Jelastic Cloud partner guarantees that all customer data will be hosted exclusively in Tier III certified data centre located in Hradec Kralove. The data centre provides a dedicated uplink capacity 2 x 100 GBps to the Czech Republic and to neighboring european countries.
"One of the biggest challenges in our industry is that businesses are increasingly frustrated with the demand of getting projects from developers' laptops into production to any extent. With Jelastic, our customers can get rid of long deployment time and feel the true state of the art development. We believe in strong partnership with Jelastic and from now we will offer a world class PaaS and CaaS solution from the center of Europe to our clients," said Martin Brendl, Unispace CEO.
Unispace powered by Jelastic, provides developers and companies with a wealth of such advantages as:

Automatic vertical and horizontal scaling
Easy creation of dev, test, production environments
Fast setup of clustered and highly available applications
Support of microservices and legacy applications
Ability to hibernate, stop, restart, clone applications
Marketplace with the most popular preconfigured applications for one click installation
Pay-per-Use charging approach
From the hosting provider side, Unispace can ensure:

Enterprise grade server and network hardware from Dell and Cisco
Highly-available Tier III datacenter in the Czech Republic
Direct MPLS connection from DC to customer
Backups by default
Customers can try hosting their projects at Unispace for free at http://www.unispace.io/en/
About Jelastic
Jelastic is a robust solution for the cloud market - hosting providers, enterprises and developers - combining the benefits of PaaS and CaaS in a single turnkey package. Its rich interface simplifies complex cloud deployments by automating the creation, scaling, clustering and security updates of microservices or monolithic applications. Jelastic has a unique pay-for usage-only pricing model and is available as public, private, hybrid and multi-cloud in more than 55 data centers worldwide. The platform provides support of Java, PHP, Ruby, Node.js, Python, .NET environments and custom Docker containers. More info is at https://jelastic.com
About Unispace
From heart of Europe we modernize the way how developers and SMBs work. Unispace.io innovates usage of Cloud platform with unique PaaS and CaaS solution. New technology can transform your business. Unispace.io can help you to deploy, test and manage your applications in a most fast and easiest way. We ensure that you have the tools you need to deploy and manage your apps seamlessly.
Get started with us, go further, or stay ahead.
http://www.unispace.io/en/