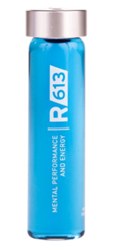 Designed to Achieve
NEW YORK (PRWEB) November 07, 2017
Kiss the "afternoon slumps" goodbye with the powerful punch of R/613 Mental Performance and Energy with Cognizin® Citicoline.
R/613 utilizes the synergy of well-researched nootropic combinations to help athletes, professionals, and students achieve peak performance in everyday activities. Each serving comes in an easy-to-open vial for quick use on the go.
R/613 helps improve focus and energy using three main ingredients:

Cognizin® is the key ingredient that makes R/613 unique from other brain-health supplements. Cognizin® is a patented form of citicoline, a naturally occurring nutrient produced by the brain. Citicoline is critical for healthy brain function and is proven to increase alertness, as well as boost energy. Clinical studies show Cognizin® provides nutrients that help the brain stimulate electronic impulses, maintain healthy neurons and protect neurons from free radical damage.*
Natural Caffeine helps us stay alert and physically active by temporarily blocking feelings of fatigue. It is clinically shown to increase stamina, enhance focus and boost physical endurance. Moderate caffeine intake shows positive effects on cognition. Each R/613 energy shot has the same amount of caffeine as a cup of gourmet coffee.*
D-Ribose is a five-carbon sugar found naturally in our body. Unlike other sugars, when ribose enters the body it is transformed into fuel and recycled as energy. The body treats ribose differently and preserves it for the vital work of making the energy that powers our heart, muscle, brain, and other body tissues. Ribose is used to improve athletic performance and the ability to exercise by boosting muscle energy. The D-ribose in R/613 helps maintain energy levels and support heart health.*
For more information, visit https://r613performance.com/.
About R/613 Mental Performance and Energy
Our mission is to provide cutting-edge products that deliver peak performance. R/613 is a proprietary formula clinically proven to mentally and physically enhance performance. Each ingredient has been carefully selected to increase alertness, focus and energy levels within your brain. Empowering visionaries looking to further their daily lives and overcome obstacles, we understand that optimal brain function is not only critically important but achievable on a daily basis. R/613 is an extension of Memory Sciences, LLC cognitive health products, who launched INVIA (http://www.INVIALife.com) in 2016. For more information, visit https://r613performance.com/.
About Cognizin
Cognizin® Citicoline, manufactured by Kyowa Hakko Bio Co., Ltd., is a clinically studied and patented form of Citicoline, a natural substance found in every cell of the body and especially vital to brain health.* Citicoline is a potent brain-health nutrient. A proprietary form of citicoline, Cognizin® has been clinically studied to support mental energy, focus, attention, and recall. Cognizin is manufactured through a patented fermentation process to yield high quality and high purity. Cognizin is also highly stable, GRAS, ultra-pure and allergen-free. For more information on Cognizin, visit Cognizin.com.
About Kyowa Hakko USA
Kyowa Hakko USA is the North & South American office for Kyowa Hakko Bio Co. Ltd., an international health ingredients manufacturer and world leader in the development, manufacturing, and marketing of pharmaceuticals, nutraceuticals and food products. Kyowa is the maker of branded ingredients including Cognizin® Citicoline, Lumistor® L-Hydroxyproline, Pantesin® Pantethine, Setria® Glutathione, as well as Sustamine® L-Alanyl-L-Glutamine. For more information visit Kyowa-USA.com.
*These statements have not been evaluated by the Food and Drug Administration. This product is not intended to diagnose, treat, cure, or prevent any disease.