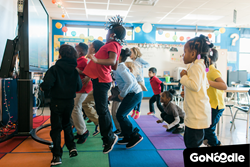 "With GoNoodle, Health Net is able to measurably impact the physical activity of kids across our entire community. And at the same time, Health Net is supporting LAUSD teachers in their efforts to make their classrooms active learning environments." -Steve Sell, President of Health Net of California
LOS ANGELES (PRWEB) December 13, 2017
A new initiative led by Health Net of California, Inc. ("Health Net") just crossed a major milestone, as over 130,000 Los Angeles Unified School District elementary students participating in GoNoodle have now moved and learned for 10 million minutes so far this school year.
Health Net is underwriting the cost of GoNoodle's online movement videos and games for use in nearly 600 LAUSD elementary schools for an initial three-year period, through the 2019-2020 school year. LAUSD elementary teachers have access to hundreds of online movement and mindfulness videos, including exclusive GoNoodle PLUS videos that bring movement and core subjects together to develop fluency in grade-specific math and ELA topics.
GoNoodle maximizes the scientific connection between movement, mindfulness and better learning while getting kids running, jumping, dancing, stretching and practicing moments of mindfulness right next to their desks. Grounded in research, GoNoodle delivers proven results by bettering behavior, more focused time-on-task, and improved academic performance.
"Health Net is committed to improving the health of kids and families throughout Los Angeles. We know daily physical activity is essential part of growing up healthy," said Steve Sell, president of Health Net of California. "With GoNoodle, Health Net is able to measurably impact the physical activity of kids across our entire community. And at the same time, Health Net is supporting LAUSD teachers in their efforts to make their classrooms active learning environments."
GoNoodle gives teachers an easy way to incorporate short bursts of movement and mindfulness — three- to five-minutes at a time — getting kids ready to learn and maximize instructional time. GoNoodle helps to improve classroom culture, class cohesion and classroom community by getting kids moving while deepening learning. This is a strong match for Health Net's efforts to transform the health of the communities it serves.
According to the CDC, only one-quarter of today's youth meet the current recommendation of getting at least 60 minutes of physical activity per day. Together with Health Net, GoNoodle is helping local students earn vital minutes of physical activity with entertaining experiences that feature high-energy dance music, fitness routines, virtual field trips and physical challenges. With hundreds of movement and mindfulness videos and games, the gamified element of GoNoodle helps motivate and inspire. Over 12 million kids play GoNoodle each month, generating over 5 billion minutes of movement in the past year alone.
"What a difference GoNoodle has made in my 4th grade classroom," said Criss Moreno a teacher in LAUSD. "I use GoNoodle for transitions, stretch breaks and indoor recess. My students love Moose Tube, and Blazer Fresh videos — it is so incredibly infectious. GoNoodle gives my students a safe place to feel silly while they get some cardio and have a few moments in our very busy day to just be a kid. I am so grateful that Health Net is providing GoNoodle Plus!"
GoNoodle has hundreds of movement and mindfulness videos that activate kids' bodies and brains. GoNoodle's premium version, GoNoodle Plus, includes exclusive videos, interactive learning games, and learning extensions. With GoNoodle Plus, LAUSD elementary teachers have the ability to customize GoNoodle content, which further supports their lesson plans and academic goals of the classroom.
To use GoNoodle, teachers need to have a computer with an internet connection and a shared screen, such as a projector or interactive whiteboard. At home, kids can create and customize their accounts (with parent verification), and get playing GoNoodle online, on mobile, or on Apple TV. Teachers, parents and kids can sign up for free at http://www.gonoodle.com.
"Regular physical activity is critically important to the healthy development of kids. And, we know healthy kids do better in school," said Scott McQuigg, Co-Founder of GoNoodle. "GoNoodle is excited to work with Health Net and LAUSD teachers to measurably increase physical activity and get Los Angeles area students moving and learning like never before."
About Health Net, Inc.
Health Net, Inc., a wholly owned subsidiary of Centene Corporation (NYSE: CNC), provides and administers health benefits through group, individual, Medicare (including the Medicare prescription drug benefit commonly referred to as "Part D"), Medicaid and dual eligible programs. Health Net also offers access to behavioral health, substance abuse and employee assistance programs, and managed health care products related to prescription drugs. For more information on Health Net, please visit the company's website at http://www.healthnet.com.
About GoNoodle
GoNoodle (launched in 2013), gets kids moving to be their smartest, strongest, bravest, silliest, bestest selves. GoNoodle is among the fastest adopted online resources used by elementary teachers, connecting movement, mindfulness and learning for their students. Delivering measurable gains in academics and health, GoNoodle's 100's of short interactive videos and games get kids moving throughout the school day, keeping them energized and focused, while introducing curricular topics, practicing mindfulness or just getting the wiggles out. GoNoodle supports teachers in optimizing learning opportunities while creating a joyful classroom. Currently, more than 14 million kids and over 650,000 teachers use GoNoodle each month. GoNoodle is used in 80% of U.S. public elementary schools in all 50 states and worldwide in 185 countries. Over 2 million families use GoNoodle at home, turning screen time into active time, either through gonoodle.com, apps for the iPhone and Apple TV and through the GoNoodle YouTube channel. Learn more at http://www.gonoodle.com.