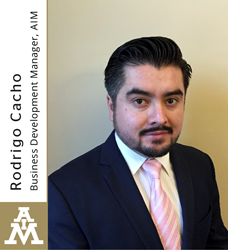 CRANSTON, R.I. (PRWEB) November 07, 2017
AIM Solder, a leading global manufacturer of solder assembly materials for the electronics industry, is pleased to announce the promotion of Rodrigo Cacho to the position of Business Development Manager. Rodrigo will be responsible for the development, maintenance, and expansion of product sales to multinational customers throughout the world.
In his most recent role with the company as Latin America Sales Manager, Rodrigo provided unsurpassed support to customers within the region, solidifying AIM's presence in Latin America and positioning the company for success. Rodrigo will transition into his new role as Business Development Manager over the next few months, working with the sales team to ensure customers within the region a seamless transition.
"Since joining AIM in 2004, Rodrigo has been a key contributor to AIM's continued success," said AIM's Vice President - Sales, Andy Dolan. "We are confident that his experience will allow him to excel in his new role."
Rodrigo Cacho can be reached by email at rcacho(at)aimsolder(dot)com.
About AIM
Headquartered in Montreal, Canada, AIM Solder is a leading global manufacturer of assembly materials for the electronics industry with manufacturing, distribution and support facilities located throughout the world. AIM produces advanced solder products such as solder paste, liquid flux, cored wire, bar solder, epoxies, lead-free and halogen-free solder products, preforms, and specialty alloys such as indium and gold for a broad range of industries. A recipient of many prestigious SMT industry awards, AIM is strongly committed to innovative research and development of product and process improvement as well as providing customers with superior technical support, service and training. For more information about AIM, visit http://www.aimsolder.com.
Upcoming Events:
November 14-17, 2017 – Productronica Germany – Munich, Germany
November 16, 2017 – SMTA New England – Worcester, MA
November 29, 2017 – SMTA Silicon Valley – San Jose, CA