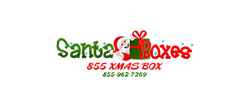 "After the SantaBox started to sell and we started to receive feedback, a good portion of what we received had the words 'A New Christmas Tradition' attached" - Samantha Demirez, Chief Concept Officer
Little Neck, New York (PRWEB) November 07, 2017
Today, HolidayBoxer.com, the leading holiday gift boxing service, announced the release and contents of its 2017 SantaBox. With this release, parents have a way to keep their children entertained on Christmas Eve without spending large amounts of money.
SantaBoxes first hit the market in 2014 as a new holiday tradition designed to help parents deal with their children's excitement and anticipation regarding Christmas Eve. SantaBoxes are filled with treats, activities, and fun, commemorative items that make the Night Before Christmas a special time all its own, while also giving parents the freedom to do the things they need to do to prepare for Christmas Day without their kids trying to figure out what's going on.
HolidayBoxer.com has branched out to provide happy customers with gift boxes for Valentine's Day (the CupidBox), Mother's Day (the MomsDayBox), and Father's Day (the DadBox), but as Tony Cundiff, HolidayBoxer.com's Chief Boxing Officer, points out, the SantaBox is the core of the company's offerings: "The SantaBox started it all. The entire HolidayBoxer product line was built on the SantaBox model and its success. Our most discriminating customers are kids. We listened to their feedback through their parents, and we believe that our 2017 SantaBox will exceed even the most demanding of expectations."
The 2017 SantaBox contains several beautiful craft projects from high-end children's toy manufacturer Melissa and Doug Toys to keep children entertained on Christmas Eve while creating beautiful keepsakes of the holiday. A huge Christmas-themed activity book adds to the fun, and a Christmas bathrobe helps children feel comfortable, loved, and ready for the holiday. The 2017 SantaBox also includes cookies for Santa and a plate and mug to set out for the big man, plus plenty of delicious treats for the children as well.
New in 2017 are SantaBoxes for pets as well. Dogs and cats get a fun selection of toys and treats to include them in the celebration.
With SantaBoxes, HolidayBoxer.com has indeed instituted a new Christmas tradition that delights parents and children alike. As Chief Concept Officer Samantha Demirez comments, "After the SantaBox started to sell and we started to receive feedback, a good portion of what we received had the words 'A New Christmas Tradition' attached. We're humbled that you've allowed us to entertain your children these past years, and we look forward to growing up with your families for many Christmases to come."
About HolidayBoxer.com: HolidayBoxer.com, based in Washington, New York, is the premiere source for holiday subscription and gift boxes. The contents of its holiday boxes change each year, with all items carefully curated and tested before inclusion. Its offerings include SantaBoxes, MomsDayBoxes, DadBoxes, and CupidBoxes, with other holiday offerings in the wings. For more information, contact HolidayBoxer.com Media Director Romeo Thomas at 855-XMAS-BOX (855-962-7269).