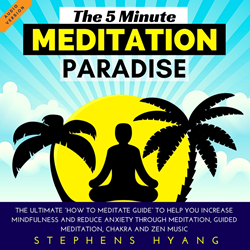 Meditation opened me up spiritually and managed to somehow give me additional strength to weather my daily storm. Nothing changed with my schedule, apart from adding 10 minutes of meditation each day
WASHINGTON (PRWEB) November 08, 2017
Many Americans use meditation to enhance their daily lives: The National Center for Complementary and Integrative Health (NCCIH) estimates that, as of 2012, approximately 8 percent of the adult U.S. population, or 18 million Americans, were harnessing meditation for "stress management, emotional well-being" and "better sleep." Now there is a new audiobook to help ensure that those millions of users of meditation are optimizing its many benefits and to introduce those benefits to many more Americans.
The new audiobook, The 5 Minute Meditation Paradise: The Ultimate "How to Meditate Guide" to Help You Increase Mindfulness and Reduce Anxiety through Meditation, Guided Meditation, Chakra and Zen Music (http://www.MeditationHub.Net), is published by Positive Mind Hub and written by seasoned author Stephens Hyang. Hyang has authored a wide spectrum of previous audiobooks that provide guidance on how to alter bad habits and preclude self-damaging behavior, and how to induce success and self-fulfillment using "Positive Affirmation" and the "Law of Attraction."
Mastering Meditation for Long Run
Hyang's new meditation audiobook is intended to help meditation novices and veterans alike gain the most from meditation while thoroughly debunking longstanding myths that meditation is a time-consuming, complicated process. The audiobook begins by offering a brief introduction of the history of meditation and a general overview of the five major types of meditation.
The listener is then introduced to an array of tips and methods on how to meditate successfully: specifically providing 11 steps toward a successful meditation; 13 tools and techniques to help one meditate and five "scientific ways to build a meditation habit that sticks." Dispensing with laborious theories, the audiobook focuses on the essential areas of meditation: what is the best time to meditate, how to breathe properly, how to reach deep meditation – which are all elucidated well for the meditation beginner. (The audiobook also notes that celebrities and inspirational people who meditate or meditated include Steve Jobs, Oprah Winfrey and Jerry Seinfeld.)
Hyang emphasizes that this "audiobook is not about meditation for a day or two; it's about sustaining this habit for the long run. From meditation for beginners to meditation that controls your chakras, the audiobook will give you all the tools to actually master meditation."
He continues: "Meditation opened me up spiritually and managed to somehow give me additional strength to weather my daily storm. Nothing changed with my schedule, apart from adding 10 minutes of meditation each day."
About Positive Mind Hub
Positive Mind Hub publishes a broad range of audio self-help books, affirmations, visualizations and prayers seemingly tackling every facet -- and nearly every major challenge and opportunity -- of a person's daily life. These audio products encompass such topics, among others, as love and marriage, education, exercise, anger management, ecommerce, child adoption, healthy eating and weight loss, debt and finance, and gambling and alcoholism. Positive Mind Hub is also now offering a free Law of Attraction ebook. Published by Positive Mind Hub http://www.positiveaffirmationshub.com.
Contact Info: Book_sale_corner(at)hotmail(dot)com
Phone: +1-571-781-2965