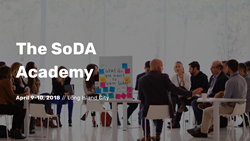 The SoDA Academy Faculty represents a stellar line-up of industry leaders and a unique opportunity for event delegates to learn from and learn with some of the best and brightest
LONG ISLAND CITY, N.Y. (PRWEB) November 08, 2017
SoDA is pleased to announce that the 2018 SoDA Academy will be held at the Museum of the Moving Image and the Paper Factory Hotel in Long Island City, New York on April 9-10, 2018.
Now in its 3rd year, The SoDA Academy is a two-day, invitation-only learning event exclusively for practice leaders in the digital agency and design communities. Faculty leaders and attendees are carefully matched to one of ten discipline-related tracks and sessions are designed for peer-to-peer learning, knowledge sharing, best practices discussion and accelerated professional growth.
The SoDA Academy Faculty represents a stellar line-up of industry leaders and a unique opportunity for event delegates to learn from and learn with some of the best and brightest including….
Michael Lebowitz, Founder and CEO at Big Spaceship (Agency Leadership Track)
Johnathan Tann, Chairman at Odopod (Agency Leadership Track)
JD Hooge, Founding Partner and Chief Creative Officer at Instrument (Design Track)
Joe Stewart, Founding Partner and Lead Designer at Work & Co. (Design Track)
Kristen Koeller, Executive Product at HUSH (Project Management Track)
Wesley ter Haar, Founding Partner at MediaMonks (Project Management Track)
Nancy Daum, COO and CFO and Pereira & O'Dell (Finance Track)
Tamir Scheinok, COO at Fluid (Finance Track)
PJ Ahlberg, Executive Technology Director at Stink Studios (Technology Track)
Eric Decker, VP of Technology at Firstborn (Technology Track)
SoDA collaborates closely with our global community of digital agency leaders, creative visionaries, technology disruptors, education experts and client-side marketers to deliver an experience that is truly unique. Based on a model of radical peer-collaboration, transparency and shared learning, The SoDA Academy is designed to dig deeply into the issues, challenges and opportunities faced by leaders, managers and practitioners.
Learn more about The SoDA Academy and request an invitation to attend at: http://www.thesodaacademy.com
About SoDA
SoDA is the leading global network for digital agency leaders, creative innovators and technology disruptors. With more than 100 agencies spanning 6 continents (sorry, nothing in Antarctica… yet), our members help the world's most progressive brands imagine and create the future of digital experiences. More about SoDA, our programs and our members at http://www.sodaspeaks.com