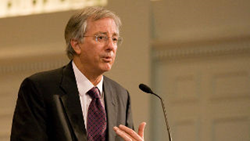 SOUTH ORANGE, N.J. (PRWEB) November 07, 2017
The Seventh Annual Dr. Marcia Robbins Wilf Lecture will feature Ambassador Dennis Ross on Sunday, November 12, 2017 from 3 - 5 p.m. in Jubilee Hall Auditorium at Seton Hall University.
Ambassador Ross presently serves as counselor and William Davidson Distinguished Fellow at The Washington Institute for Near East Policy, an organization dedicated to advancing "a balanced and realistic understanding of American interests in the Middle East and to promote the policies that secure them."
Prior to returning to the Washington Institute in 2011, Ambassador Ross served two years as special assistant to President Obama and National Security Council senior director for the Central Region, and a year as special advisor to Secretary of State Hillary Rodham Clinton.
For more than twelve years, Ambassador Ross played a leading role in shaping U.S. involvement in the Middle East peace process and dealing directly with the parties in negotiations. A highly skilled diplomat, Ambassador Ross was U.S. point man on the peace process in both the George H. W. Bush and Bill Clinton administrations. He was instrumental in assisting Israelis and Palestinians to reach the 1995 Interim Agreement; he also successfully brokered the 1997 Hebron Accord, facilitated the 1994 Israel-Jordan peace treaty, and intensively worked to bring Israel and Syria together.
A scholar and diplomat with more than two decades of experience in Soviet and Middle East policy, Ambassador Ross worked closely with Secretaries of State James Baker, Warren Christopher, and Madeleine Albright. Prior to his service as special Middle East coordinator under President Clinton, Ambassador Ross served as director of the State Department's Policy Planning Staff in the first Bush administration. In that capacity, he played a prominent role in U.S. policy toward the former Soviet Union, the unification of Germany and its integration into NATO, arms control negotiations, and the 1991 Gulf War coalition.
During the Reagan administration, he served as director of Near East and South Asian affairs on the National Security Council staff and deputy director of the Pentagon's Office of Net Assessment. Ambassador Ross was awarded the Presidential Medal for Distinguished Federal Civilian Service by President Clinton, and Secretaries Baker and Albright presented him with the State Department's highest award.
Thanks to the generosity of Dr. Marcia Robbins Wilf, founding trustee of the Sister Rose Thering Fund, prestigious lecturers such as Ambassador Ross are invited each year to Seton Hall to promote inter-religious understanding and dialogue. The lecturers themselves, who come from all areas of academia across the country, draw an audience from the entire University as well as the surrounding communities.
The mission of the Sister Rose Thering Fund at Seton Hall is to advance Sister Rose's legacy by fostering understanding and cooperation among Jews, Christians and people of other religious traditions through advocacy and education. Sister Rose Thering served as administrator, recruiting educators and raising funds to defray tuition costs, until her retirement in 2005.
For more info and to register for the November 12, 2017 Lecture, visit here: http://www.shu.edu/sister-rose/wilf-lecture.cfm.
Seton Hall University is located at 400 South Orange Avenue, South Orange, NJ 07079.
[Photo Credit: Nrbelex]
ABOUT SETON HALL UNIVERSITY
One of the country's leading Catholic universities, Seton Hall has been developing students in mind, heart and spirit since 1856. Home to nearly 10,000 undergraduate and graduate students and offering more than 90 rigorous academic programs, Seton Hall's academic excellence has been singled out for distinction by The Princeton Review, U.S. News & World Report and Bloomberg Businessweek.
Seton Hall embraces students of all religions and prepares them to be exemplary servant leaders and global citizens. In recent years, the University has achieved extraordinary success. Since 2009, it has seen record-breaking undergraduate enrollment growth and an impressive 93-point increase in the average SAT scores of incoming freshmen. In the past decade, Seton Hall students and alumni have received 24 Fulbright Scholarships as well as other prestigious academic honors, including Boren Awards, Pickering Fellowships, Udall Scholarships and a Rhodes Scholarship. In the past five years, the University has invested more than $150 million in new campus buildings and renovations. And in 2015, Seton Hall launched a School of Medicine as well as a College of Communication and the Arts. A founding member of the Big East Conference, the Seton Hall Pirates field 14 NCAA Division I varsity sports teams.
The University's beautiful main campus is located in suburban South Orange, New Jersey, and is only 14 miles from New York City — offering students a wealth of employment, internship, cultural and entertainment opportunities. Seton Hall's nationally recognized School of Law is prominently located in downtown Newark. The University's new Interprofessional Health Sciences (IHS) campus in Clifton and Nutley, N.J. will open in the summer of 2018. The IHS campus will house Seton Hall's College of Nursing and School of Health and Medical Sciences as well as the Seton Hall-Hackensack Meridian School of Medicine.
For more information, visit http://www.shu.edu.