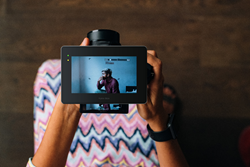 YoloBox is an easy-to-use, powerful and affordable solution to help all kinds of cameras live stream instantly
LAS VEGAS (PRWEB) November 08, 2017
YoloLiv today launched the YoloBox on Kickstarter, a revolutionary smart encoder that allows users to create professional live streams using their preferred high-quality camera.
YoloBox is making professional livestreaming accessible and affordable for users to start broadcasting across Facebook, Periscope, YouTube and other RTMP platforms using their existing equipment such as DSLR, professional cams, action cameras and Drones.
This revolutionary Android-based smart encoder easily allows these cameras go live instantly via just one HDMI cable.
"Current livestream solutions are either too complicated, expensive or not powerful enough for the average user," said YoloLiv Core team member Haixiang Chi. "YoloBox is an easy-to-use, powerful and affordable solution to help all kinds of cameras live stream instantly."
YoloBox can be set up in three simple steps to broadcast a live event:
CAPTURE:
Cameras are linked to the YoloBox via one HDMI cable (or wirelessly with GoPro).
DELIVER:
Once connected, users tap to create an event, set up name, time, and select pre-link platform to set up a livestream. YoloBox delivers video to the cloud in multiple ways via Wi-Fi, Ethernet and 4G.
WATCH:
Begin live streaming across channels like Facebook, YouTube, Periscope and other RTMP platforms. Multiple platforms can even be livestreamed all at the same time.
Before taking YoloBox global, business clients in East Asia have been using YoloLiv service for more than two years and successfully accomplished more than 10,000 livestream events.
"Now it's time to take the technology of our game-changing device to the consumer side," added Chi.
For more information and to pre-order the YoloBox at a special discounted rate, visit the campaign page on Kickstarter.
About YoloLiv
YoloLiv is a simple solution for Live streaming activities. We empower the way people acquire, produce and share their live streaming content from anywhere to everywhere by offering a complete set of hardware and could service. Our revolutionary touch screen smart encoder and powerful cloud service along with the most updated deep learning algorithm will tremendously lower the technology barrier for creators so that they can be connected with what they are really passionate about — A story worth telling, an idea worth spreading.