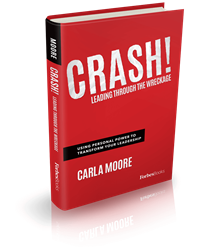 Crash! is an easy read and practical guide to help take you from where you are to where you want to be.
NEW YORK (PRWEB) November 08, 2017
On December 12th, Crash! Leading Through The Wreckage will become available online at Amazon.com and in bookstores across the country. In the book, Carla Moore shares the story of her lightening moment that led to her epiphany regarding the role of personal transformation in improving leadership.
Moore is nearing 20 successful years at HBO. She began as an entry-level sales trainer and worked her way up the corporate ladder to a VP role. However, it wasn't until her epiphany moment that she transformed from a 300-pound woman to a triathlete who learned how to become a better leader, inspire team members and drive even better business results.
Readers of Crash! Leading Through The Wreckage will gain leadership tools and be inspired to activate their own personal power to live the life they've always imagined.
Carla's extremely excited to share her story and explains what readers can expect saying, "My car crash didn't take my life but instead gave it back to me. Crash! is an easy read and practical guide to help take you from where you are to where you want to be. My lanes of transformation and 3P formula of passion + purpose = power will provide readers with a path to success and personal fulfillment."
Those looking to learn more about Carla and the upcoming book can visit CrashTheBook.com. On the site, interested parties can sign-up to join Carla's community and get one step closer to using their personal power to transform their leadership and their lives.
About Crash The Book:
Carla wasn't heading where she always dreamed of going, but it wasn't until she hit an actual roadblock – a concrete median at 55 mph, to be exact – is when she realized each passing day was never coming back. If she wanted to live the live she'd always imagined, she needed to make some changes.
And so she did.
Going from 300 pounds to triathlete, and armed with her small-town roots from Centerville, TN, Carla launched her career in New York City, she we transformed herself to suit the future she longed to fulfill. Now Carla wants to share with you the rewarding life she is leading and how she achieved it – so that you can do the same if your life and career. If you feel like you've been stalled on your journey to your dream life, Crash! is the perfect spark to give you a jumpstart!
About Carla Moore:
An empowering and proven leader, Carla Moore currently serves as Vice President of Sales Strategy and Education for Home Box Office (HBO) in New York. She began her career with HBO as an entry-level sales trainer 20 years ago and worked her way up, working in multiple departments. Before taking on her current role, Carla was Vice President of Domestic Network Distribution, leading a sales and marketing team that served millions of subscribers. Carla is an active public speaker, delivering conference keynotes and facilitating workshops on a variety of subjects, including her passion– activating your personal power. She has been featured in the Chicago Tribune, Forbes, Cosmopolitan Magazine, Channel 4 News, and other outlets and has also served as a panelist at leadership summits and career management events. Carla is an active member in the media industry and currently sits on the national board of National Association of Multi-Ethnicity in Communications (NAMIC.) She holds an MBA from Keller Graduate School of Business in Chicago and is a graduate of two leading industry programs, CTAM-U at Harvard Business School and NAMIC's ELDP at Darden School of Business at UVA.