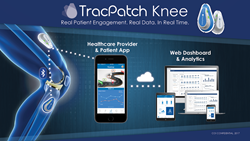 TracPatch is a touchstone of the entire orthopedics industry, connecting patient characteristics and health care provider performance with the most important data of all: patient outcomes.
Sacramento & El Dorado Hills, CA (PRWEB) November 07, 2017
Consensus Orthopedics Inc. will introduce TracPatch™ in the WT | Wearable Technologies Pavilion at MEDICA 2017 in Dusseldorf, Germany, November 13th-16th. TracPatch™ is a new revolutionary wearable device empowering at-home patient recovery and remote monitoring for effective managed care. TracPatch passively and continuously tracks a user's daily activities, including exercise compliance, range of motion, and daily goals, while maintaining the critical connection between the healthcare provider and patient. Through data collection and monitoring, TracPatch™ ensures patients will receive effective care based on their individual needs.
Dr. S. David Stulberg, Orthopedic Surgeon at Northwestern Memorial Hospital and Founder and Secretary General of the International Society for Technology in Arthroplasty, says "TracPatch is going to change the way the healthcare industry views and treats joint replacement patients. Not only will we be able to pre-operatively monitor patient activity to set a clinical baseline, surgeons will be able to monitor how their patients are recovering long after they have been discharged which will ultimately result in less patients being readmitted to the hospital and higher success rates of surgery. It is exciting to be presenting this device globally as we know TracPatch will have a positive impact on healthcare."
"We are honored to be invited to show our innovative technology at this year's MEDICA 2017 in the WT | Wearable Technologies Pavilion. Using our agnostic platform, TracPatch technology has the ability to simultaneously enrich multiple healthcare arenas. I look forward to spending the week in Dusseldorf with our current and future TracPatch partners," said Michael Droege, Vice President of Global Business Development at Consensus.
The showcase of TracPatch by Consensus Orthopedics in Dusseldorf, Germany is the beginning of a worldwide expansion of the device that is revolutionizing the way data is used in orthopedics. Visit our booth at Wearable Technologies Show 2017 Medica, Hall 15 / A23, to speak with the TracPatch team and Dr. John Mariani to learn more about this groundbreaking device.
Curt Wiedenhoefer, President of Consensus Orthopedics and General Manager of the TracPatch Division, says "TracPatch is revolutionizing evidence-based medicine. In a very short amount of time, we have been able to align ourselves with effective and world renowned partners. With this type of momentum, we are pushing the boundaries of wearable medical technology in the orthopedic market to enhance patient outcomes. I am looking forward to our showcase of the TracPatch at MEDICA 2017."
Join us for a special presentation by Dr. John Mariani on Tuesday, November 14th at 15:20-15:30: Wearables for Chronic Diseases and Mobility Challenges Session, Hall 15, Stand 15C24. Dr. John Mariani, a renowned orthopaedic surgeon, has been intimately involved with several advances in orthopaedic care. Throughout his career, Dr. Mariani has given numerous presentations regarding techniques in knee replacement worldwide. His most recent peer-reviewed publication is in The Journal of Arthroplasty in June 2016 which studied the effect of early hospital discharge after knee replacement on readmission rates.
MEDICA is the largest medical marketplace worldwide. In 2016 more than 4,800 exhibitors presented their innovations to 130,000 visitors from all over the world. To learn more about Wearable Technologies Show Medica visit https://www.wearable-technologies.com/upcoming-shows/.
About Consensus® Orthopedics, Inc.
Consensus Orthopedics was founded in 1992 as a medical device consulting company located in California. In 1996, Consensus Orthopedics acquired US Medical Products becoming a global manufacturer of reliable large joint orthopedic devices. Since 1996, Consensus Orthopedics has been providing the orthopedic industry with exceptional hip and knee joint replacement devices. Its signature knee system, the Consensus Knee System, has over 20 years of reliable and reproducible results. With a deep understanding of the orthopedic industry, Consensus launched its innovative TracPatch Technology division focusing on orthopedic wearable technology, which combines Consensus Orthopedics 25 years of orthopedic experience with innovative Big Data capabilities. TracPatch is a revolutionary new device empowering at-home patient recovery and remote monitoring for effective managed care. With a focus on evidence based medicine, Consensus Orthopedics is changing patient care and the future of orthopedics. Learn more at http://www.consensusortho.com and http://www.tracpatch.com.