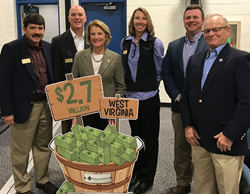 Rural and farming communities have suffered from insufficient access to credit due to onerous new regulations and the slow progress of the economic recovery. Farm Credit is helping to address these challenges and the issuance of these payments underscores Farm Credit's commitment to family farmers
(PRWEB) November 08, 2017
Borrowers who have teamed up with Farm Credit of the Virginias to tackle their lending needs received a healthy dividend check. As a cooperative, Farm Credit distributes a portion of its profits to their customer-owners. Through this unique and growing patronage dividend program, Farm Credit of the Virginias has refunded customer-owners the equivalent of two months of interest earned on their loans in 2016.
West Virginia Senator Shelley Moore Capito met recently with local farmers and Farm Credit employees to recognize Farm Credit for returning over $2.7 million to residents in West Virginia. "Rural and farming communities have suffered from insufficient access to credit due to onerous new regulations and the slow progress of the economic recovery. Farm Credit is helping to address these challenges and the issuance of these payments underscores Farm Credit's commitment to family farmers, agricultural businesses and their communities," said Senator Capito.
"We are pleased that we have the ability as a cooperative with a 100-year legacy to support and strengthen the position of the American farmer and other agricultural businesses that this nation depends on for nourishing its families. Our Board of Directors understand the critical role Farm Credit plays in sustaining our agricultural industry and our rural communities. We are owned by the farmers and agribusinesses that we serve, and paying patronage is an important part of the value we deliver. Since 2001, Farm Credit of the Virginias has paid more than $213 million in patronage dividends to its customer-owners," Peery Heldreth, CEO of Farm Credit of the Virginias.
ABOUT FARM CREDIT OF THE VIRGINIAS
Farm Credit of the Virginias provides over $1.8 billion dollars in financing to more than 10,000 farmers, agribusinesses and rural homeowners throughout Virginia, West Virginia and western Maryland. Farm Credit is a cooperative capitalized largely through investments made by farmers, ranchers and the rural homeowners and businesses that borrow from them. In fact, as part of a nationwide network they are the largest single provider of agricultural credit in the United States and have been for 100 years. Farm Credit helps maintain and improve the quality of life in rural America and on the farm through its constant commitment to competitive lending, expert financial services and for facilitating and sharing knowledge and resources through the Farm Credit Knowledge Center. For more information, visit http://www.FarmCreditKnowledgeCenter.com or http://www.FarmCreditofVirginias.com.
Photographed left to right: Farm Credit Relationship Manager, Mark Haddix, Regional Lending Manager, FJ Grady, Directors Donna Brooke-Alt, Jamie Kinsey, John Wells and Senator Capito.