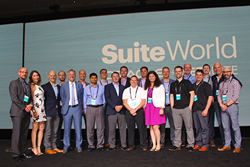 BELLEVUE, Wash. (PRWEB) November 08, 2017
Q&A with Steve Jones, CEO & Partner, Explore Consulting
Explore Consulting is the most experienced NetSuite Reseller and Solution Provider Partner based in the Pacific Northwest, with more than 15 years of NetSuite sales and professional services engagements to date. Our team of highly experienced certified NetSuite consultants ensure the success of our customers' NetSuite initiatives by utilizing a proven methodology for success. Known for our strong technical capabilities with the platform, we are also a NetSuite Certified Digital Agency, SDN Partner and highly decorated NetSuite consultancy providing end-to-end services across many business verticals.
What qualifies partner as the VAR of the month?
Explore Consulting has won 28 NetSuite awards since starting the practice, including Solution Provider Partner of the Year, Americas twice in 2011 and 2014. In 2016, Explore was honored as the inaugural SuiteCommerce Partner of the Year for NetSuite Ecommerce accomplishments, and has reached top sales achievements 8 years running. Our capable, creative and hard-working team of certified NetSuite professionals works collaboratively on behalf of our NetSuite customers to bring the most current platform knowledge and guidance to any initiative, ensuring that business objectives will be met safely with a proven approach.
What makes you successful?
Deep experience, a high bar for consulting talent, and a model that was built for supporting NetSuite customers forever. Explore has successfully delivered over 1000 NetSuite implementations, customizations, Ecommerce webstores and other related initiatives over 15+ years, and is recognized as a one-stop-shop for everything NetSuite. Our consulting team includes NetSuite Certified ERP Consultants, SuiteCloud Developers, SuiteCommerce Developers, and the practice maintains SuiteCommerce Advanced Authorized Agency and SDN Partner status. Our team acts as an ongoing extension to our customers' businesses as a practical way to continue growing and leveraging their investment in NetSuite ongoing.
How are you growing your firm?
Our growth for many years has been largely based on demand from customer referrals, but we've recently experienced a surge in lead activity since the Oracle acquisition of NetSuite in 2016, likely based on higher exposure in the marketplace. As NetSuite continues to deepen platform functionality, opportunities have naturally moved upstream to larger mid-market and even enterprise customers, which tends to require more technical requirements that we're strong at addressing. We're on track to grow both revenues and headcount by nearly 20% this year, and are making investments that will allow us to grow our consulting team by 50% in 2018 to keep up with increased demand.
What opportunities do you see in the market?
We see Omnichannel as a significant opportunity in the market. As a leading SuiteCommerce Advanced Authorized Agency since 2014, we're seeing great improvements being made to the platform and our ability to do more for less moving in the right direction for our customers. NetSuite's next generation retail POS solution, SuiteCommerce In Store, is also gaining traction, which allows us to deliver fully integrated, real-time omnichannel commerce experiences with NetSuite. We're also continuing to grow our team of certified consultants on Advanced Revenue Management in order to address our customers' ASC606 compliance needs, and have built a team to support the new requirements.