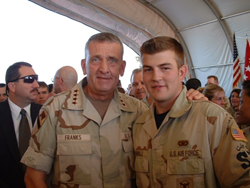 "I survived the seemingly endless 13-month deployment with the help of video games."
PITTSBURGH (PRWEB) November 07, 2017
ProFromGo Internet Marketing founder, Chris Vendilli, announced today the public release of ProFromGo's new web design platform and template library, a product offering the company has named "Studio PFG."
 
After the ProFromGo team began to specialize in more technically complex and visually demanding projects, it became a major challenge to cost-effectively complete simple brochure-style website projects for small business owners. The inspiration for Studio PFG came after Vendilli noticed his company was frequently referring away these smaller projects to sometimes unreliable freelancers or online website design platforms that assume small business owners understand digital technology at a higher level than they often do.
"The web design industry is slowly being commoditized, and some small businesses with simple needs can't afford our custom solutions. We can now offer our expertise through Studio PFG as an efficient technology platform, to meet their needs and their budget," Vendilli said.
As part of the announcement of the new Studio PFG offering, and in honor of the upcoming Veteran's Day holiday, Vendilli, who is a military veteran himself, also announced he'll be donating 10% of the gross sales of Studio PFG during the entire month of November to Stack-Up, a non-profit client of ProFromGo who supports military veterans through the power of video games.
 
Stack-Up founder and CEO, retired army captain, Stephen Machuga, is a former Army Infantry/Military Intelligence officer and Airborne Ranger, having spent the majority of his service at Fort Bragg with the 82nd Airborne Division. 
In 2003, Machuga was deployed to Iraq with the 2nd Infantry Division. "I survived the seemingly endless 13-month deployment with the help of video games," Machuga said.
Founded in 2015, Stack-Up serves United States, NATO (UK, Canada, etc.) Australian and New Zealand veterans through three primary programs: The Stacks, Supply Crates, and Air Assaults.
 
Machuga chose to work with ProFromGo as his digital marketing agency because of their track record, expertise and a shared veteran connection with Vendilli. After learning that most of the team at ProFromGo are also video game enthusiasts, there was little doubt that the client-agency relationship would be a great fit.
 
"We reached out to a variety of web developers for the rebuilding of our site, but ProFromGo worked with us on pricing," Machuga said. "And it made the most sense to work with them because other developers were charging tens of thousands of dollars." It also was important to us, as a military charity, to work with veteran-owned and operated, Pittsburgh-based organization. I knew we had the right people for the job and it has been a great experience!"
Allowing businesses to have more control of their web presence is an important component of what ProFromGo Internet Marketing, a cVe certified Veteran-owned Pittsburgh business, does for their valued clients. ProFromGo is hosting a Lunch & Learn at Highmark Stadium on November 16, 2017. The event will feature content from Google about how to get found on Google Maps, a guest speaker from Boston based marketing software company HubSpot, and best ever pricing on the company's newly released Studio PFG website platform.
Learn more about Studio PFG and the upcoming lunch & learn event at ProFromGo.com
More information about Stack-Up can be found at Stack-Up.org.