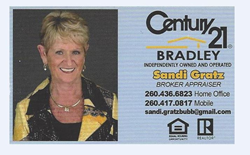 At BeBalanced we feel very strongly about giving back to the community and combatting poverty.
FORT WAYNE, Ind. (PRWEB) November 08, 2017
BeBalanced is hosting a holiday shoe donation drive for Soles4Souls, a nonprofit global social enterprise committed to fighting poverty through the collection and distribution of shoes and clothing. New or gently worn pairs of shoes can be dropped off at BeBalanced, 6167 West Jefferson Boulevard in Fort Wayne, IN, from October 1 to December 1.
"At BeBalanced we feel very strongly about giving back to the community and combatting poverty," said Sandi Gratz, a Century 21 Realtor who opened the Fort Wayne, IN, BeBalanced franchise location with her daughter, Amber Quinn, in June.
Sandi joined her daughter at Be Balanced bringing her years of business savvy and local knowledge. She recently marked forty-eight years as a real estate professional, serving Fort Wayne and surrounding cities since 1969. Sandi has enjoyed selling to thousands of families over the years, many times helping three generations of families find their dream homes. She has also worked on several fundraisers for cancer, food supply drives for local churches and with the Fort Wayne Women's Bureau, where she uses BeBalanced as a drop-off site for clothing for "Dress for Success."
Soles4Souls aims to eradicate extreme poverty by 2050. Children every day are prevented from attending school and adults are unable to work as walking becomes unbearable, which perpetuates the cycle of poverty. To date, Soles4Souls has collected and distributed more than 30 million pairs of shoes to those in need in 127 countries around the world and all 50 states in the U.S.
"Every single one of those pairs of shoes collected by our partners makes a difference in someone's life," said Buddy Teaster, President and CEO of Soles4Souls. "With the help of businesses and individuals that host donation drives, we can provide a life-changing solution: a good pair of shoes."
For more information about getting involved with Soles4Souls or to become an official drop-off location, visit https://soles4souls.org/get-involved/.
About Sandi Gratz, Century 21 Bradley Realty, Inc.
Century 21 Realtor Sandi Gratz serves Allen, Dekalb, Noble, Whitley, Steuben, Huntington and Wells county, IN. Sandi is a Graduate, Realtor Institute, member of Fort Wayne Board of Realtors as well as National Association of Realtors and a State Certified Appraiser. For more information, please call (260) 417-0817, or visit http://www.sandigratzbubb.c21.com. Century 21 Bradley Realty is located at 2928 E. Dupont Rd., Fort Wayne, IN 46825.
About Soles4Souls
Soles4Souls disrupts the cycle of poverty by creating sustainable jobs and providing relief through the distribution of shoes and clothing around the world. Headquartered in Nashville, Tennessee, the organization repurposes product to supply its micro-enterprise, disaster relief and direct assistance programs. Since 2006, it has distributed more than 30 million pairs of shoes in 127 countries. A nonprofit social enterprise, Soles4Souls earns more than half of its income and commits 100% of donations to programs. Visit soles4souls.org for more information.
About BeBalanced Hormone Weight Loss Centers, Fort Wayne, IN
BeBalanced is a franchise of women's health clinics filling the gaps between the weight loss industry, hormone replacement industry, and medical community. BeBalanced's overall mission is to help women live healthfully, achieve fast weight loss and long-term weight control, and look and feel their best at any age. For more information, call (260) 710-8109, or visit http://www.bebalancedcenters.com.
For media inquiries, please call the NALA at 805.650.6121, ext. 361.