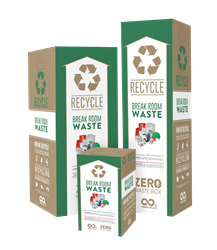 Tom Szaky has been a real innovator collecting waste that others viewed as impractical and of no repurposing value. We are so excited to work with him and the team at TerraCycle,
New York, New York (PRWEB) November 08, 2017
Today EcoPlum®, a sustainable promotional products and e-commerce company, announces it is now an official Zero Waste Box™ (ZWB) partner with TerraCycle. EcoPlum will offer the boxes to its B-to-B branded merchandise client base, as well as to consumers shopping at the EcoPlum Boutique.
Zero Waste Boxes provide sustainably-focused companies and individuals a convenient way to collect, sort and recycle their own waste stream. Clients may choose relevant types of waste to collect and recycle in the designated ZWBs. When the boxes are filled, they ship them to TerraCycle.
EcoPlum's addition of Zero Waste Boxes to its product offering provides the company with an end-of-life solution it can offer business clients to address the problem of daily office waste and how to deal with it responsibly. Among the types of office waste collected are: coffee capsules, pens, candy wrappers, binders, cartridges, media storage, dining implements, shipping materials, and plastic bags and packaging. For the complete list of office recycling boxes offered by EcoPlum click here. For consumer boxes available in the online boutique click here.
TerraCycle recycles all these various waste streams collected into useful and innovative inputs for new products. For example, collected plastic may be turned into small uniform pellets that provide raw input material for manufacturing new plastic products.
As Gia Machlin, Founder and CEO EcoPlum, asserts, "Tom Szaky has been a real innovator collecting waste that others viewed as impractical and of no repurposing value. We are so excited to work with him and the team at TerraCycle, a company with such a strong mission and global accomplishments reusing and recycling waste."
The ZWBs complement EcoPlum's main line of sustainably-sourced promotional products for business clients, i.e. Sustainable Swag™, that are branded with company logos and/or customized marketing messages. EcoPlum encourages organizations to better align their values as good corporate citizens with their operational practices when it comes to purchasing promotional products. As a company with a social mission, EcoPlum offers only sustainable merchandise, with an emphasis on environmental and fair trade criteria, including recycled or reclaimed materials, organic and non-toxic ingredients and third-party eco-labels. Consistent with minimizing waste, EcoPlum focuses on sourcing innovative, unique, high-quality products with a long life-cycle. A priority is to reduce waste, specifically plastic junk filling up landfills and clogging the oceans. Plastic is particularly pernicious, as it takes thousands of years to bio-degrade.
Tom Szaky, TerraCycle's founder, notes, "With our Zero Waste Box initiative, we look for partners, like EcoPlum, who share our interest in reducing all kinds of waste sent to landfills and who want to make sure it gets recycled, so it can be used in new products."
Since 2008, EcoPlum has educated its customers about environmental issues and sourced products solely from eco friendly manufacturers and suppliers for its business gifts division and online boutique for consumers. The new Zero Waste Boxes partnership with TerraCycle enables EcoPlum to close the loop by providing clients with efficient ways to dispose of and recycle products.
In addition to offering Zero Waste Boxes to its customers for collection, EcoPlum will also work with clients who have sufficient waste material that can be made into branded products by TerraCycle. It is another customized solution the two companies envision from their partnership.
About EcoPlum
EcoPlum® is an environmentally focused business-to-business, e-commerce, and media company, including EcoPlum Business Gifts and the EcoPlum Boutique for consumers. EcoPlum launched its Sustainable Swag™ business gifts division in Fall 2016 and offers businesses and organizations branded and customized sustainable promotional products. The EcoPlum Boutique for consumers specializes in sustainable and stylish fashion, home, food and gift items in its online shop. EcoPlum was one of the first companies online to offer a loyalty program for customers, issuing green shopping rewards points, known as EcoChipz, good for coupons in the shop or donations to environmental causes. The EcoPlum Biz Blog is an information and news-based blog, with an emphasis on business decision-makers. The EcoPlum Green Living Blog reports the latest news and inspiration on a variety of eco topics, including green living and entertainment, safe cosmetics, millennials and the environment, and stories behind many unique eco friendly products.
EcoPlum's mission is to inspire, inform and empower its readers, individual customers, and business clients to be conscious of their daily habits, purchases and impact on the world's limited resources. In its quest for a better world, EcoPlum hopes to help consumers and businesses make responsible choices every day. EcoPlum's products are sustainable, fair trade, organic, vegan, recycled, upcycled, and/or ethically sourced meeting many criteria, including transparency of ingredients and third-party certification.
A trusted source for information and products since 2008, EcoPlum earned the coveted Green America Business Seal of Approval in 2011, providing the highest tier "Gold Approved Member" status online at GreenPages.org.
EcoPlum® says Sustainability. Meet Style.® More information is available at http://www.ecoplum.com, via info(at)ecoplum(dot)com, on Facebook and on Twitter @ecoplum.
About TerraCycle
Founded in 2001, TerraCycle, Inc., is the world's leader in the collection and repurposing of hard-to-recycle post-consumer waste, ranging from used cigarette butts to coffee capsules to pens. The waste is collected through free, national, brand-funded recycling programs, as well as various consumer and government-funded models. The collected waste is turned into a variety of raw materials that are sold to manufacturers to produce new products. Each year, across 21 countries, TerraCycle collects and repurposes billions of pieces of waste, donating millions of dollars to schools and charities in the process. To learn more about TerraCycle or get involved in our recycling programs, please visit http://www.terracycle.com/.