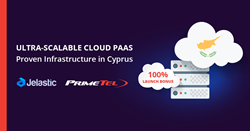 Our cooperation with PrimeTel makes us sure that Cypriot clients will be satisfied with the services and get the needed level of personalized assistance.
(PRWEB) November 09, 2017
Jelastic, Inc., provider of the ultra-scalable and interoperable PaaS for Java and PHP applications, announced cloud hosting alliance with PrimeTel, one of the leading and fastest growing Telecom providers in Cyprus.
As a result of this partnership, PrimeTel introduced their new Business Cloud Service specifically for Cyprus market. By offering a tremendous saving of costs on hosting, PrimeTel powered by Jelastic allows customers to redirect financial resources on their businesses growth, without having to compromise on their IT needs.
"That is always a benefit for our customers, as well as for Jelastic itself, when we partner with proven local companies in order to provide not only an advanced platform but also high performance and superior support. Our cooperation with PrimeTel makes us sure that Cypriot clients will be satisfied with the services and get the needed level of personalized assistance," said Mr. Ruslan Synytsky, Founder and CEO of Jelastic.
Jelastic cloud platform differs from other PaaS offerings by its convenience, auto-scalability and ease of use. The platform is containerized and offers a wide range of major software stacks. Developers simply choose application servers, databases and load balancers they need, deploy applications without code changes and in a few minutes their projects are smoothly running and scaling based on the load changes. Setting up and managing complex cloud environments are notably simple and straightforward, so that the entire lifecycle of an application is significantly optimized.
"We are very delighted to announce Jelastic availability in Cyprus," said PrimeTel's CEO Mr. Hermes N Stephanou. "As a technology partner, Jelastic brings us a next-generation Java and PHP cloud platform. It integrates seamlessly within our services and reduces the cost of ownership of online platforms, while increasing flexibility and performance by utilizing PrimeTel's high speed local and international network."
PrimeTel's Business Cloud Support is handled in cooperation with Scaleforce, an innovative hosting company with a decade-long track record in the IT industry and a high level of competence in founding and successfully leading technology projects.
30 Days Free Trial and 100% Launch Bonus!
All developers can explore the platform by trying out any combination of services for 30 days absolutely free of charge. In addition, the first deposit will be doubled with a 100% bonus (this offer is time limited). As a result, the larger applications you host – the bigger discount you get. This makes Jelastic even more cost-effective not only for development and testing, but also for large-scale production deployments.
For more information and to start a free trial in Cyprus, visit us at:
http://primetel.com.cy/business/en/cloud/
About Jelastic
Jelastic is a robust solution for the cloud market - hosting providers, enterprises and developers - combining the benefits of PaaS and CaaS in a single turnkey package. Its rich interface simplifies complex cloud deployments by automating the creation, scaling, clustering and security updates of microservices or monolithic applications. Jelastic has a unique pay-for usage-only pricing model and is available as public, private, hybrid and multi-cloud in more than 55 data centers worldwide. The platform provides support of Java, PHP, Ruby, Node.js, Python, .NET environments and custom Docker containers. More info is at https://jelastic.com
About PrimeTel
PrimeTel is one of the leading and fastest growing providers of mobile, broadband, fixed telephony and television services in Cyprus. Founded in 2003, the company operates its own private 4G mobile Network and the largest privately owned fiber optic network in Cyprus, offering a variety of complete communication solutions to personal, business and wholesale customers. The company owns and operates a privately owned ISO certified Landing Station and Data Centre, hosting two submarine cables (Hawk and Tamares) that connect Cyprus with the rest of the world. Its high performance international network has points-of-presence in Germany, Greece, Russia and the United Kingdom providing network connectivity, data communications and IP-based services.