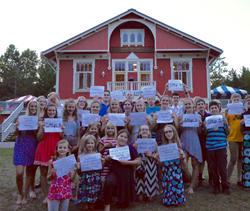 Our unique scholarship program is possible thanks to the dedicated mission of our own nonprofit organization, The Salolampi Foundation, along with generous support from Finnish partner organizations, such as Finlandia Foundation National and its local chapters," said Dean Iida Tervola-Hultberg.
BEMIDJI, Minn. (PRWEB) November 09, 2017
Salolampi Language Village, the nation's premier Finnish language immersion program, operated by Concordia Language Villages of Concordia College, is pleased to announce that enrollment has grown by 40 percent since 2016 — thanks to its innovative curriculum and robust scholarship initiative.
To celebrate the success of Salolampi, based in Bemidji, Minnesota, students and counselors have created a fun slideshow to demonstrate the easy, step-by-step process for obtaining scholarships. To view the new "How-to Apply for Salolampi Scholarships" slideshow, please go to: http://bit.ly/2z2f61r
Unlike other language programs, Salolampi Language Village is supported by the Salolampi Foundation, which provides a significant "automatic scholarship" to each student once they have registered. To bring the tuition fee down even further, students can apply up for up to five Salolampi Foundation Partner Organization scholarships.
"Our unique scholarship program is possible thanks to the dedicated mission of our own nonprofit organization, The Salolampi Foundation, along with generous support from Finnish partner organizations, such as Finlandia Foundation National and its local chapters," said Iida Tervola-Hultberg, Dean of Salolampi Language Village. "As a result of our combined efforts, every child in the United States and Canada who has an interest in learning about Finnish language, culture, and history has the opportunity to attend Salolampi."
To encourage students to attend Salolampi's 2018 summer sessions, Concordia Language Villages also offers incentives to those who register by December 1st, 2017. To take advantage of these additional opportunities over the coming weeks, please visit: http://bit.ly/2zpd38c
About Salolampi Foundation
Salolampi Foundation is committed to sustaining Finnish language and culture through scholarships and funding to support the Salolampi Finnish Language Village. http://www.salolampi.org
About Finlandia Foundation National
Finlandia Foundation National is the leading network of Finnish-American organizations in the United States. Founded in Pasadena, California in 1953, it administers grants, scholarships and programs supporting and celebrating Finnish heritage and Finnish-American culture and traditions. For more information about the 501(c)(3) organization: http://www.finlandiafoundation.org
About Concordia Language Villages
Concordia Language Villages, a nationally recognized program of Concordia College, Moorhead, Minn., has been a leader in immersion language and culture education for nearly 60 years and offers one-, two- and four-week residential immersion summer camps in Arabic, Chinese, Danish, English, Finnish, French, German, Italian, Japanese, Korean, Norwegian, Portuguese, Russian, Spanish and Swedish. Sites are located in northern Minnesota and staffed by skilled counselors who are a combination of native and highly proficient language speakers from across the U.S. and around the world. Programs attract nearly 10,000 participants annually from all 50 states and many countries. http://www.concordialanguagevillages.org
For inquiries regarding Salolampi Finnish Language Village, please contact:
Amy "Iida" Tervola Hultberg
atervola(at)cord(dot)edu