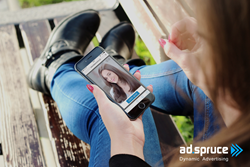 In today's scroll-happy mobile web surfing experience, grabbing a user's attention is vital to advertising success. We've developed what I believe is one of the most eye-catching, engaging and interactive ad formats on the planet.
SWANSEA, United Kingdom (PRWEB) November 09, 2017
AdSpruce, international leaders in mobile video advertising, now deliver Vertical Video 2.0 ads to the mobile web. Advertisers can maximise their campaigns using the full scale of the mobile device screen. Vertical Video 2.0 capitalises on the current smartphone market, with users more likely to be holding their phone vertically to consume content. Adspruce's Vertical Video 2.0 ads provide a user-friendly experience that doesn't tilt or re-orientate the user's device.
With the ability to deliver Vertical Video 2.0 ads, AdSpruce offers advertisers and brands a solution for campaigns to be designed with the current user trend of vertical content consumption in mind. Vertical Video 2.0 has already been used for several campaigns in which an advertiser wanted to utilise the full scale of the user's mobile device to capture their attention.
AdSpruce CEO Ian Mullins said, "In today's scroll-happy mobile web surfing experience, grabbing a user's attention is vital to advertising success. We've developed what I believe is one of the most eye-catching, engaging and interactive ad formats on the planet. Combined with our videoserve.tv adserver that reaches more mobile devices than anyone else and our creative studio that develops beautiful ad creatives our Vertical Video 2.0 solution changes the game for full screen interactivity on mobile phones."
Vertical Video 2.0 can deliver much more than just video to the user. An advertiser is able to add other features to the ad to help increase engagement and performance. Additional features that can be added to Vertical Video 2.0 include a Swipe-to-Engage feature at the start of the ad, Animated Takeover end cards that can feature multiple click options, as well as click options throughout the Vertical Video itself. These and lots of other bespoke features can be added to the ad, all made by AdSpruce's HTML5 Ad Studio creative team.
Part of the AdSpruce HTML5 Ad Studio, Vertical Video 2.0 is just one of many new and exciting interactive ad types AdSpruce offers advertisers. Through HTML5 Ad Studio, AdSpruce has massively upgraded its rich-media and video ad offering, providing brands and agencies with dynamic, interactive creatives that engage users in fresh new ways on the mobile web.
AdSpruce delivers over 100 million video and rich-media ads every month in emerging markets using its own proprietary video delivery infrastructure and has a rapidly growing network of premium video publishers across the world. AdSpruce has an impressive mobile video and rich media programmatic platform and world-leading outstream, in-stream, interstitial and HTML5 ad units. To find out more about AdSpruce's mobile video advertising capabilities, visit the website at http://www.adspruce.com.
About AdSpruce
AdSpruce provides software and services for publishers to maximize the value of their mobile inventory by getting advertisers' videos watched, tracked and programmatically executed. Positioned at the intersection of programmatic advertising, mobile video and HTML5 dynamic creative, AdSpruce uses its in-house-developed ad serving technology, audience data and user-friendly video formats to increase viewer ad engagement, brand performance and publisher revenues. The world's leading brands already trust AdSpruce to target, track, measure and deliver performance at speed and scale across the mobile web.
Differentiated by direct agency partnerships and proprietary big data rich-media programmatic technology and an ad serving platform that incorporates yield optimising artificial intelligence algorithms and content delivery infrastructure that delivers video ads to more than twice as many mobile devices as its nearest competitor. This unique position enables AdSpruce to connect with audiences that no other ad tech platform can reach. From low-bandwidth feature phones in emerging markets such as Vietnam, Indonesia, India and Brazil to 4G smartphones in New York, London and Singapore, AdSpruce delivers the highest possible video quality and beautiful rich-media advertising experiences.
AdSpruce delivers the best-quality user experience on any device, anywhere.
With the mobile web audiences more than twice as large as in-app audiences and growing faster (Morgan Stanley https://goo.gl/vv1e39), AdSpruce focuses on delivering the best possible ad experience across all mobile browsers, operating systems, screens and bandwidths. The technical challenges are significantly more complex than apps but AdSpruce pivoted out of Yamgo TV, a pioneer in streaming ad-funded content to feature phones in Asia. This 10-year track record in delivering video to phones places the company in a strong position to continue delivering value to advertisers, publishers and, most importantly, users.