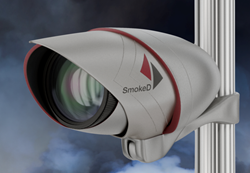 With an increasing occurrence and severity of wildland fires there is a need for their accurate detection and fast notification to fire-fighting authorities.
BURBANK, Calif. (PRWEB) November 08, 2017
SmokeD, the world's first fire camera powered by artificial intelligence able to detect smoke and warn of approaching wildfires, is live on global crowdfunding platform Kickstarter and raising funds to bring the project to life.
In 2017, 8,442 California wildfires to date have resulted in 41 fatalities and over $3.3 billion in damages. SmokeD is a solution aiming to prevent home and business owners of fast approaching wildfires. The camera boasts A.I. technology able to detect smoke up to 10 miles away, and then alerting users directly on their phone.
"With an increasing occurrence and severity of wildland fires there is a need for their accurate detection and fast notification to fire-fighting authorities. Realizing that traditional fire monitoring with sparsely-located lookout towers is inadequate, we've concluded that modern technologies and active participation of general public are needed," says CEO Artur Matuszczak. "Combining information from lookout tower cameras with that coming from a dense network of inexpensive and precise cameras interacting with smartphones is our solution. Use of artificial intelligence can greatly help in precise and timely detection of fires and effective communication with the federal; state and local firefighting authorities."
The SmokeD Camera is a revolutionary new camera that utilizes artificial intelligence and deep learning to detect even light traces of smoke from a camera image. Each photo sent by SmokeD Camera undergoes a thorough analysis and should any smoke be detected, the system automatically notifies the user.       
Immediately after a danger is detected, SmokeD Alerts mobile app users receive an alert on their smartphones. The app is then used to verify notifications sent by the community as well as keeping camera owners and the fire services informed about any possible incidents. Each notification is also sent to the community of over 3,000 mobile app users. They make up the whole community that verifies the alerts and helps our artificial intelligence to "learn" about the area under the SmokeD Camera surveillance.
"You can find many fire cameras on the market but all of them are designed for professional services. We have built a fire camera designed for the general public and smart phone users. The most important feature of the SmokeD system interaction of people and artificial intelligence. This is really about the communities!," adds Matuszczak. "Our product tries to build an extensive international community interested in reducing wildfire hazards. Everyone can be involved in wildfire detection and help with fighting fires and it does not really matter where you live. Our system which is based on artificial intelligence allows you to spot wildfires even if you are far away from forests and other fire-sensitive areas."
SmokeD is currently live and available to support on Kickstarter: http://kck.st/2AelsrL
About IT for Nature LLC
We are programmers, foresters and IT engineers that are truly involved in all wildfire issue. Our expertise and experience we understand forestry processes and risks. We Started developing the SmokeD software in 2013 up until today , to provide the indispensable tool for the forest management and communities informing.
For more information on IT for Nature LLC please visit http://www.itfornature.com
###