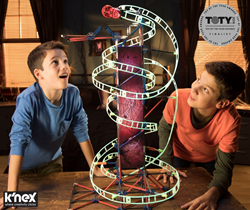 "K'NEX is so excited to have 2 TOTY Finalists," said K'NEX President and CEO, Michael Araten. "Receiving this honor from the Toy Association makes it all worth it. We encourage toy fans of all ages to log on to toyawards.org and vote."
HATFIELD, Pa. (PRWEB) November 09, 2017
K'NEX, the construction toy company where creativity clicks™ is thrilled to announce two Toy of the Year (T.O.T.Y.) finalists; K'NEX Thrill Rides Web Weaver Building Set and K'NEX Imagine Power & Play Motorized Building Set.
The Toy of the Year Awards, also known as the "Oscars" of the toy industry is the premier toy awards program. Finalists have been nominated from within the industry and are being voted on by toy companies, toy retailers, and consumers.
"K'NEX is so excited to have 2 TOTY Finalists in the running," said K'NEX President and CEO, Michael Araten. "Our entire team, from design to marketing and beyond, have put their heart and soul in to our 2017 product line. Receiving this honor from the Toy Association makes it all worth it. We encourage toy fans of all ages to log on to toyawards.org and vote. Together, we can show the world there is more to building toys than bricks!"
A Finalist in the Construction Category:
THRILL RIDES: Web Weaver Roller Coaster™ Building Set
What a wicked web you'll weave when you set out to build this awesome coaster that goes from horizontal to vertical in an instant! The K'NEX Thrill Rides Web Weaver Roller Coaster Building Set includes 439 K'NEX parts and pieces, including glow-in-the-dark track and an air propelled, motorized spider-themed coaster car! Full-color, easy-to-follow building instructions are also included, plus download building instructions for a second coaster on knex.com! Suggested retail price is $69.99. Ages 9+. Models can be built one at a time. Available now on knex.com and at toy retailers nationwide.
A Finalist in the Creative Category:
IMAGINE: Power & Play Motorized Building Set
The Power & Play Motorized Building Set comes with a motor, 50 unique building ideas and a reusable suitcase style package! Use the included full-color instructions to construct models that really move such as, cars, planes, robots and more, or use your imagination to create your own exciting models. 529 classic made-in-the-USA pieces are included in this set. Most models can be built one at a time. Suggested retail price is $49.99. Ages 7+. Available now on knex.com and at toy retailers nationwide.
Voting is open until January 5, 2017. Log on http://www.toyawards.org/ to vote. All voters will be entered into a raffle to win a toy prize pack from the Toy Industry Association. The winners will be announced during a celebration in New York on February 16, 2018.
About K'NEX Limited Partnership Group
Founded in 1992, K'NEX, a wholly owned subsidiary of Smart Brands International Co., LLC, did not set out to become an educational toy company, all we wanted to do was show kids that the only limit to building was the size of their imagination! 25 years later, K'NEX prides itself on connecting Science, Technology, Engineering, Arts, and Math with imagination. STEAMagination™ can be found in every K'NEX set and with it building dreams become a fun-powered, 3-D reality! Winner of over 400 awards and recognitions, the K'NEX product line has building toys specially designed for every age group and skill level. The K'NEX family of brands includes IMAGINE Building Sets, Thrill Rides, K'NEX Education®, Kid K'NEX®, K-FORCE Build and Blast®, Mighty Makers®, Mario Kart™, Super Mario™, Plants vs. Zombies™, LINCOLN LOGS® and TINKERTOY® both under license from Hasbro, and more! From the living room to the board room, we are proud to help build the leaders of tomorrow! Join us at http://www.knex.com.