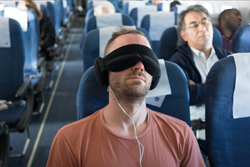 We designed Soulitude as a guide into stillness.
GOTHENBURG, Sweden (PRWEB) November 09, 2017
After launching the mega-successful Pause Pod crowdfunding campaign on Kickstarter last spring, Sweden's ODD Company is introducing their latest product for consumers on the go. Soulitude is a premium sleeping mask with noise canceling earmuffs, designed to withstand any light leakage while keeping noise at bay. Soulitude launched today on Kickstarter with a funding goal of $18,000
Soulitude lets consumers say goodbye to disrupting noise and light and enjoy traveling in peace. The sleep mask is designed with 100% breathable cotton, and its comfortable memory foam makes it easy for users to fall asleep and stay comfortable, whether they are traveling or simply in need of a quick power nap.
The earmuffs are made of six parts to effectively keep sound out while lying comfortably on the ears. The inner shell is made of a thick plastic, followed by two layers of a super thick acoustic foam. The outer shell is isolated with a premium soft cushion foam. Additionally, Soulitude's earmuffs fit over top of any set of normal earbuds for added noise reduction.
"We designed Soulitude as a guide into stillness," explained Co-founder Adam Mikkelsen. "I travel often; trains, buses, planes-you name it. Surrounded by hundreds of strangers, thousands of feet up in the air, I often found it hard to fall and stay asleep. Together, my team and I developed Soulitude to be the latest and greatest travel companion and an upgrade to the classic sleep mask."
Soulitude comes with a state-of-the-art travel bag, ideal for packing away while traveling. The advanced sleep mask is currently available on Kickstarter starting at $29. To learn more or to take advantage of early bird pricing, visit http://pr.fundl.ink/soulitude.
About ODD Company
Odd Company is an innovation agency consisting of a group of friends from Gothenburg, Sweden, making products that will improve consumer's well-being. In short, the company believes that if one is feeling good, they will do good, which is something we need more of in today's world. To learn more, visit https://www.oddcompany.se/.