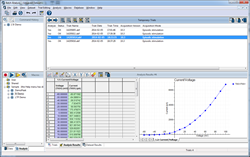 SUNNYVALE, Calif. (PRWEB) November 09, 2017
Molecular Devices, LLC, a leader in protein and cell biology technologies, announced the launch of the newest generation of its widely-used data acquisition and analysis software for patch-clamp electrophysiology, pCLAMP™ Software Suite Version 11 today. Among many new features, this latest version of the software includes intelligent data analysis capabilities as a part of the new Clampfit Advanced Analysis Module, allowing for improved automated event detection and batch analysis of data.
Electrophysiology tools including Molecular Device's Axon suite of instruments and pCLAMP Software enable researchers to conduct basic neuroscience research as well as investigating ion channel interactions related to neurological or cardiac disease states. Fueled by federal and private funding, continued growth in neuroscience research is expected as scientists seek treatments for disorders such as Alzheimer's and Parkinson's diseases. pCLAMP 11 software is well positioned to help scientists gain deeper insights into cell membrane potential measurements.
"For nearly 25 years we have supported the electrophysiology research community by providing key measurement and analysis systems for understanding ion channel dynamics," said Jeffrey Webber, Electrophysiology Product Manager at Molecular Devices. "We are excited to add this new set of capabilities to our well-established software platform, accelerating accurate insights for even the most complex experiments."
About Molecular Devices, LLC
Molecular Devices is one of the world's leading providers of high-performance bioanalytical measurement systems, software and consumables and is dedicated to helping customers unravel the complexity of biological systems. Included within a broad product portfolio are platforms for high-throughput screening, genomic and cellular analysis, colony selection and microplate detection. These innovative instruments, combined with scientific expertise, assays, and analytics tools for protein and cell biology enable scientists to explore life's most important questions. The company is headquartered in Silicon Valley, California with offices around the globe.