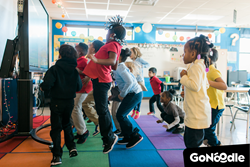 "Based on feedback from area teachers and the millions of physical activity minutes that GoNoodle has already delivered to Fort Worth students, it just makes sense to continue our support of GoNoodle in the communities that Cook Children's serves." - Larry Tubb, SVP of Cook Children's
FORT WORTH, Texas (PRWEB) November 14, 2017
An initiative led and funded by Cook Children's Health Care System (Cook Children's) has Fort Worth area kids participating in more physical activity during the school day with GoNoodle. In the past year, Fort Worth area students have earned more than 78 million minutes of physical activity in their classrooms using GoNoodle's online movement videos and games. GoNoodle get kids running, jumping, dancing, stretching and practicing moments of mindfulness right next to their desks.
Research conducted by the Center for Children's Health led by Cook Children's supports short bursts of movement throughout the school day to improve overall student health and academic performance. Data from a 2016 study shows students who play GoNoodle perform better in reading comprehension and standardized math tests compared to students who did not play. Another study by Cook Children's showed an average 13 percent improvement in childhood normal weight (as measured by body mass index or BMI) during a three-year period for elementary-age students who attend schools at independent school districts using GoNoodle.
Fort Worth area elementary schools are making great strides in getting their students moving and learning, in part thanks to a sponsorship from Cook Children's that brings GoNoodle's premium version, GoNoodle Plus, to 650+ schools. All public, charter and private elementary schools in Denton, Hood, Johnson, Parker, Tarrant, and Wise counties currently have access to GoNoodle Plus, which includes exclusive videos, interactive learning games, and learning extensions. With GoNoodle Plus, teachers have the ability to customize GoNoodle content, which further supports their lesson plans and academic goals of the classroom. In the last 30 days alone more than 7,800 Fort Worth teachers have used GoNoodle in their classrooms
"The biggest benefit is that students have become not just active participants in the classroom, but PHYSICALLY active participants. GoNoodle has bridged the gap between academic learning and physical activities," said Toya Keas, Kindergarten teacher in Kennedale ISD. "Students are begging to be active and in such a sedentary world built around being stationary, this is a huge accomplishment."
Cook Children's launched GoNoodle for Fort Worth area elementary schools in August 2013. Today, GoNoodle is used in 650+ Fort Worth area elementary schools across Denton, Hood, Johnson, Parker, Tarrant and Wise counties. Given the use of GoNoodle across the region and continued feedback from teachers and parents about GoNoodle's impact on student performance and health, Cook Children's recently renewed its commitment to provide GoNoodle to area elementary schools for another three years, with funding through the 2019-2020 school year.
"We know exercise is critical to developing kids' bodies and brains. Getting kids moving more has many positive health benefits, and it also improves student performance," said Larry Tubb, Senior Vice President of Cook Children's. "Based on feedback from area teachers and the millions of physical activity minutes that GoNoodle has already delivered to Fort Worth students, it just makes sense to continue our support of GoNoodle in the communities that Cook Children's serves."
To use GoNoodle, teachers need to have a computer with an internet connection and a shared screen, such as a projector or interactive whiteboard. At home, kids can create and customize their accounts (with parent verification), and get playing GoNoodle online, on mobile, or on Apple TV. Teachers, parents and kids can sign up for free at http://www.gonoodle.com.
"Together with Cook Children's and Fort Worth area teachers we are moving the needle for children, improving their performance at school and their overall health by injecting short bursts of physical activity throughout the school day," said Scott McQuigg, CEO and co-founder of GoNoodle.
About GoNoodle
GoNoodle (launched in 2013), gets kids moving to be their smartest, strongest, bravest, silliest, bestest selves. GoNoodle is among the fastest adopted online resources used by elementary teachers, connecting movement, mindfulness and learning for their students. Delivering measurable gains in academics and health, GoNoodle's 100's of short interactive videos and games get kids moving throughout the school day, keeping them energized and focused, while introducing curricular topics, practicing mindfulness or just getting the wiggles out. GoNoodle supports teachers in optimizing learning opportunities while creating a joyful classroom. Currently, more than 14 million kids and over 650,000 teachers use GoNoodle each month. GoNoodle is used in 80% of U.S. public elementary schools in all 50 states and worldwide in 185 countries. Over 2 million families use GoNoodle at home, turning screen time into active time, either through gonoodle.com, apps for the iPhone and Apple TV and through the GoNoodle YouTube channel. Learn more at http://www.gonoodle.com.
About Cook Children's:
Cook Children's is one of the country's leading integrated pediatric health care systems. And, as a connected system of specialists, pediatricians, clinics, a medical center and community programs, patient families benefit through access to all of our available resources that are guided by Our Promise: Knowing that every child's life is sacred, it is the promise of Cook Children's to improve the health of every child in our region through the prevention and treatment of illness, disease and injury.