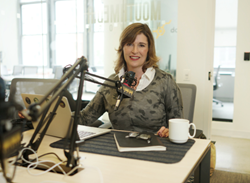 Lynne Twist, Author Soul of Money: "Melinda is a brilliant woman committed to evolving our consciousness and overcoming our fears to make a much, much better world."
WASHINGTON (PRWEB) November 10, 2017
Successful female entrepreneurs, women business owners and investors including Hint CEO Kara Goldin, Brandless CEO and Investor Tina Sharkey, and Springboard Enterprises chair and USA Networks founder Kay Koplowitz, are joining together to make their voices heard in a new daily podcast, WINGS of Inspired Business.
Hosted by serial technology and media entrepreneur and Verifeed CEO and founder Melinda Wittstock, the daily podcast affirms and acclaims women who are innovating in emerging growth technology, e-commerce, consumer products, health, financial, media and other sectors – as well as women angel and VC investors.
WINGS of Inspired Business host Melinda Wittstock says her mission with the podcast and growing community is to help all women soar to "SuperShero Success" in business and in life.
The WINGS podcast launches on iTunes, Google Play, SoundCloud and Stitcher with the first 20 episodes. It is also available on Melinda's personal site.
"My moonshot is to invest in 100 female-founded and women-run businesses in the next 10 years," says Wittstock. "I'm starting by BEING the change I want to see in the world – the catalyst to give voice to the journeys of women in business and female entrepreneurs, the catalyst that helps us lift each other up."
Tina Sharkey, venture capitalist investor and now the CEO and co-founder of the new consumer goods company brandless, is featured today on the WINGS podcast. "It's important to document these stories because it is a time capsule that will live beyond this conversation," Sharkey says.
With all the headlines about sexual harassment in Silicon Valley and the challenges female founders experience raising money to grow and scale their businesses, the WINGS podcast gives positive voice to the extraordinary achievements of the women entrepreneurs participating in the daily podcast, among them:

Kara Goldin, CEO and founder of Hint, who has grown her healthy lifestyle brand to $100mm+ in revenue and heading fast to $1bn 'unicorn' status
Ping Fu, the inventor of 3D Printing and 3D Imaging with applications ranging from Invisalign braces to NASA space missions at her company GeoMagic
Kay Koplowitz, the founder of USA Networks who in her role at the accelerator Springboard Enterprises has helped more than 600 women in business raise $8bn in capital, with 115 successful exits and 13 IPOs
Sally Hogshead, the award-winning advertising copywriter who's work for Nike, Coca Cola and MINI Cooper, is displayed in the Smithsonian Museum of American History
JJ Virgin, the celebrity nutrition and fitness expert and four-time New York Times best-selling author
And many more including Sara Blakely of Spanx, Tina Sharkey of Brandless, Gina Bianchini of Ning and Mighty Networks.
Melinda and her successful entrepreneur guests mastermind daily about women in business, their challenges, inspirations, failures, motivation, successes and the the lessons learn along the way, sharing tips with each other and their listeners.
And they take the conversation to a growing community on Facebook and across social media.
"I am so grateful this Thanksgiving season," says WINGS host Melinda Wittstock, "I want women in business everywhere to acknowledge those women who have inspired them as much as Sara Blakely, Tina Sharkey, Ping Fu and so many others have inspired me."
Wittstock is calling on women – and men - to nominate their own "SuperSheroes" for the WINGS podcast and community. "Together we can change the game of business," says Wittstock.
Women in business share their epiphanies, challenges, insights and tips and advice to help other women manifest the confidence, connections and capital they need to soar to success in business and life, says Wittstock, whose own companies have included her current technology company Verifeed, a social intelligence platform, and her previous ventures NewsiT and Capitol News Connection. Wittstock is also an award-winning journalist, TV and radio host, whose career spans The Times of London, BBC Television, CNBC, ABC News and NPR, as well as her own media ventures.
Topics on the podcast include: venture capital and angel investing, startups, innovation, technology, networking, scaling, exits and valuation growth, hiring and team building, marketing and sales, mindset, health and fitness, relationships, sex, and much more.
WINGS is an acronym that stands for "women, innovating, networking, growing and scaling."
WINGS of Inspired Business launches is available on iTunes, Google Play, SoundCloud and Stitcher with the first 20 episodes.
Contact Melinda Wittstock: Melinda(at)WingsPodcast(dot)com
More at https://melindawittstock.com