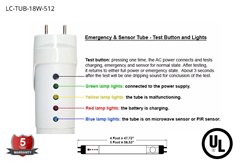 Lasts Up To 90 Minutes In Emergency Lighting Situations
PALM BEACH GARDENS, Fla. (PRWEB) November 10, 2017
LED Corporations, manufacturer, wholesaler, and distributor of innovative, high-value LED emergency lighting products and accessories, offers versatile emergency LED tube lights that serve as a reliable, long-lasting light source in the event of a power outage.
The emergency T8 tube is an LED tube that features a built-in rechargeable battery backup, eliminating the need for emergency backup battery ballast. When power is disconnected, the unit will operate at 30 percent, continuing to provide necessary illumination for the application for up to 90 minutes independently.
They are not the same as our Battery backup for LED lights they are truly the entire T8 LED tube light with the backup built in manufactured by LED Corporations are engineered for long-lasting utility, cutting energy consumption versus standard fluorescent tubes. They are constructed using a solid aluminum heat sink running the length of the lamp to preserve function and extend service life. Our emergency T8 tubes are rigorously tested and approved by third-part quality control engineers during production to guarantee performance.
LED Corporations' emergency T8 tubes offer reliability in critical applications.

Built-in nickel-metal hydride emergency battery backup with 90-minute battery life
Unit can be recharged over 1,000 times
Fire-resistant sleeves
Dual or single-ended power
Optional motion sensor
Test button feature with colored lights indicating power state, battery charge, sensors, and malfunctions
4 ft. in length, 18 watts, 1980 lumens, 120-277 volts, 240˚ beam angle
LED emergency tubes manufactured by LED Corporations are ideal for use in these applications and more:
Office spaces
Hospitals
Parking garages
Municipal buildings
Schools
Facilities directors, maintenance managers, energy managers, safety managers, and other end users choose LED Corporations' emergency T8 tubes for reliability, cost savings, and lowered energy consumption. Electrical and general contractors specify our emergency T8 tubes to provide customers with dependability and energy savings in numerous applications.
Emergency T8 Tubes by LED Corporations are specially priced for a short time, with shipping included. Visit LEDCorporations.com or call 800-560-7850 to learn more about LED Corporations' Emergency T8 tubes or to place an order.
About LED Corporations, Inc.
LED Corporations, Inc. is a manufacturer, wholesaler, and distributor of innovative, high-value LED lighting products and accessories. Headquartered in Palm Beach Gardens, FL, LED Corporations provides quality interior and exterior illumination products suited for commercial and industrial applications across the globe. Offering a vast selection of in stock products paired with unmatched customer service, LED Corporations aspire to help electricians, electrical contractors, and LED product suppliers grow their businesses and best serve end users.