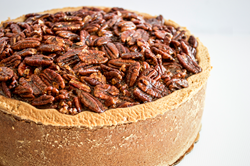 "Every year our team is excited to help customers create memories around the holiday table," said Bobby Jucker, bakery co-owner and fifth generation baker.
HOUSTON (PRWEB) November 10, 2017
The holiday season is important for all retailers, but this year, in Houston and other areas of the country devastated by natural disasters, small businesses will depend upon their holiday sales, both local and online, to recover and rebuild.
"Every year our team is excited to help customers create memories around the holiday table with our desserts, but this year in Houston we know those memories are going to mean even more to those who were hit by Hurricane Harvey," said Bobby Jucker, bakery co-owner and fifth generation baker. "We encourage families to support local retailers who were impacted by Hurricane Harvey or any other natural disaster. We give you a heartfelt thank you."
Three Brothers Bakery is known for its scratch-made items and offers specialty pies, pastries and breads available both online and in-store at all of the bakery's three Houston locations. The bakery's award-winning Pecan Pie is made with scratch-made pie crust and filled with a mound of southern pecans to create an ooey, gooey filling. The Pecan Pie is the perfect gift or addition to a holiday feast. Other pie offerings from Three Brothers Bakery include the Deep Dish Pecan Pie, Chocolate Fudge Pecan, Chocolate Mousse, Apple, Pumpkin and Cherry, among others. All pies can also be ordered, packaged and shipped in a wooden pie box, individually handcrafted through the bakery's partnership with Woodworkers Club of Houston. All proceeds from the boxes will be given to fund the 2 X's Toys, a charity program for building wooden toys for disadvantaged children.
The bakery also offers a seasonal twist on the classic cheesecake with a Pumpkin Cheesecake, made with cheesecake, pumpkin filling and a chocolate graham cracker crust, creating a delicious, special dessert sure to please both pumpkin pie and cheesecake lovers. Festive and seasonal dipped decorated cookies, cupcakes and petit fours are also available.
And, for those looking to make a statement at their holiday gatherings, the bakery's famed Pumpecapple Piecake consists of a three layer piecake featuring a Pumpkin Pie baked in a Pumpkin Spice Cake, a Pecan Pie baked in Chocolate Cake and an Apple Pie baked into a spice cake, with cream cheese icing holding each layer together, all topped and covered with cream cheese icing, pecan pieces and a caramel drizzle. Weighing in at approximately 24 pounds and standing 11 inches tall, this Texas-sized dessert can feed 80 people and is truly an edible work of art.
Three Brothers Bakery's online store features select items that can be ordered and shipped across the U.S., making the Houston-based bakery the one stop shop for desserts and pastries this holiday season.
For more information regarding Three Brothers Bakery and any of its holiday offerings, please contact Amy Verbout at 713-225-0880 or amy(at)integrateagency(dot)com.
About Three Brothers Bakery
The traditions of Three Brothers Bakery began in Chrzanow, Poland circa 1825, and were preserved despite the family's concentration camp imprisonment during the Holocaust. Their miraculous liberation, and subsequent move to Houston, brought Eastern European scratch baking traditions to 4036 S. Braeswood Blvd, 12393 Kingsride Lane, and 4606 Washington Ave where the owners are now proud to call themselves "memory makers who just happen to be bakers." Perfecting the process for almost 200 years, each day the fifth generation bakers produce mostly dairy-free breads and pastries, cookies, a full line of specialty dessert cakes and pies, as well as custom birthday, special occasion, wedding and groom's cakes using only the highest quality ingredients.
The Three Brothers Bakery pecan pie was named "the best mail order pecan pie America has to offer" by Country Living magazine, bakery owner, Bobby Jucker competed in the popular 'Food Network Challenge' and has been seen on Food Network's Outrageous Food. Three Brothers won "Best Mail-Order Pies 2012" from Bon Appetit, as well as Modern Baking's "2013 Retail Bakery of the Year" and was part of The Knot's "2010-2013 Best of Weddings" and "Hall of Fame" picks. Most recently, Three Brothers Bakery was named #11 in "America's 50 Best Bakeries" by The Daily Meal, and was awarded the 2013 Jeffrey Butland Family-Owned Business of the Year by the Houston division of the U.S. Small Business Administration.
Follow Three Brothers Bakery on Facebook, Instagram and Twitter for Houston area news, information and events.