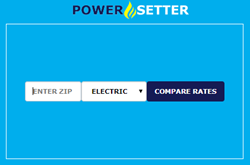 Think EXPEDIA for Electricity
NEW YORK (PRWEB) November 13, 2017
PowerSetter, a leading energy rate comparison site, added a new feature, allowing small businesses in New York to compare commercial electricity and gas rates among multiple energy suppliers.
"Small business owners are now able to instantly compare commercial electric and gas rates in New York the same way they compare hotel rates," said Mark Feygin, co-founder of PowerSetter. "Very few businesses are aware of their option to compare commercial electricity and gas rates, lock in budget-certain fixed-rate plans and reduce their utility bills. We help small businesses understand those options and provide them with an instant business energy rate comparison tool."
PowerSetter works only with the most reliable and trusted energy suppliers, carefully reviews the terms of the plans and excludes any plans with monthly, enrollment, and/or hidden fees. The company also negotiates exclusive deals with extra discounts and sends participants a timely reminder about their plan expirations.
To learn more, please visit http://www.powersetter.com/business